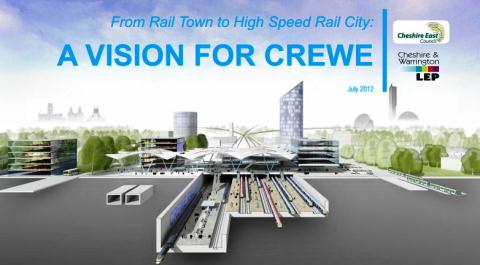 Council leaders in Cheshire have welcomed a Government report which revealed more details about Phase two of high-speed rail project HS2.
The report from the Secretary of State confirms the intended route known as 2b through Cheshire East and on to Manchester Airport and Manchester.
It also outlines that further work will be undertaken on plans for a hub station and if it goes ahead it will be located in Crewe.
There will also be a rolling stock depot north of Crewe, creating 400 jobs for the local economy.
Cheshire East Council chiefs say they intend to ensure that residents' and businesses' concerns are heard by government.
Council Leader Rachel Bailey said: "This is the news we have been working towards over the last five years or more and delivers the message that Cheshire East is truly open for business.
"This will support our local communities through the creation of new skills and a further step towards full employment in the borough.
"It presents new learning, educational and training opportunities unequalled since the heydays of railway engineering in and around Crewe.
"But we stress our support for HS2 is subject to the highest standards of mitigation and compensation for those affected, while also securing the maximum connectivity through the proposed hub station.
"The huge economic benefits to be had from HS2 must be harnessed for our future generations so children and young people of today can seize the enormous opportunities HS2 will deliver.
"I now want to work with partners and government in developing the case for a full hub station at Crewe."
The multi-billion pound HS2 plan is the biggest infrastructure project since the construction of motorways in the 1960s and 70s.
It is aimed at increasing capacity on rail and reducing car and truck movements between the north, the Midlands and the south east.
Christine Gaskell, chair of the Cheshire and Warrington Local Enterprise Partnership and board member of the Northern Gateway Development Zone, said: "The huge economic benefits of HS2 cannot be overstated.
"Evidence from high-speed rail across the world shows that HS2 will bring a huge boost to the Northern Gateway economy.
"It will deliver new jobs, business opportunities and thousands of homes to the sub-region.
"But benefits of this scale are dependent on having the right hub station solution at Crewe."
Journeys from Crewe to London will take 55 minutes – 45 minutes quicker than at present.
Councillor Bailey added: "Crewe is a town that desperately needs infrastructure investment on this scale and I am confident HS2 will transform the economic landscape for Crewe and the wider region.
"However, any celebration is tempered with the knowledge for some of our residents there will be disruption and the loss of homes and property."
Edward Timpson, MP for Crewe and Nantwich, said: "HS2 will open up South Cheshire to international business, by providing the extra rail capacity and speed from London that we so badly need.
"This will only mean more jobs for local people, including at the new rolling stock depot announced today.
"We have the rail skills and service industries here to make HS2 a continued success, both during construction and beyond, and the space and desire to accommodate new industries that want to benefit from this all-important connectivity.
"I have been working very hard in Westminster to make the case for an HS2 hub station at Crewe, and to speed up the project.
"So to be told that the concept of an integrated hub at Crewe is still being supported—six years earlier than planned—is positive news indeed."
HS2 Ltd will be holding regular stakeholder and community engagement events from December onwards.
Details will be available on HS2 website at www.hs2.org.uk and on Cheshire East Council website at www.cheshireeast.gov.uk