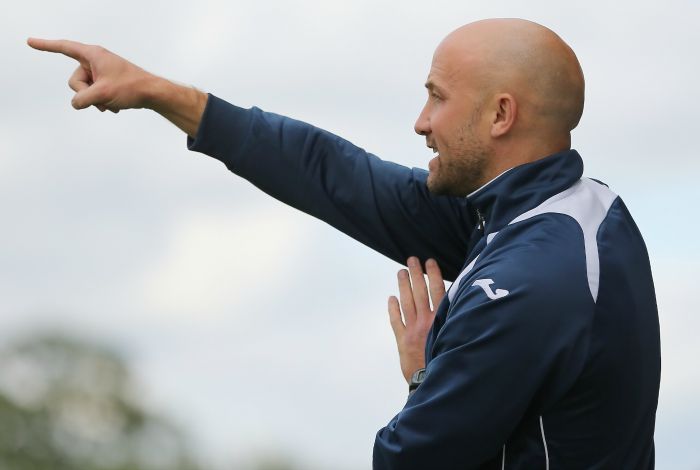 Phil Parkinson slammed his Nantwich Town for "capitulating" in their FA Trophy 3-1 defeat away at Shaw Lane.
The Dabbers boss spoke out after watching his team humbled by the Division One South side in South Yorkshire.
Nantwich found it tough going in the first half and were lucky to only go in at the break 1-0 down.
Despite clawing their way back thanks to a Sean Cooke free kick in the second half, they could not get a result as the hosts ran in two goals and emerged as deserving winners.
Nantwich became the fourth Premier Division side to lose at Shaw Lane this season, with Frickley Athletic, Whitby Town and Blyth Spartans all tasting defeat.
Parkinson said: "I'm disappointed with the way we capitulated.
"That's two games on the bounce where we've conceded goals we haven't been conceding.
"I thought it was a one-off on Tuesday and obviously we've not defended as we can.
"The second goal has taken a huge ricochet, but the third goal for me was absolutely terrible defending.
"That isn't good enough. I don't care how many games they've won, we should be doing much better than that.
"I'm all round really not happy. That's two games now where, if you're not performing and we're not getting results, isn't acceptable.
"The players will need to buck their ideas up because if they don't, there will be changes going on.
"I won't tolerate these kind of performances.
"They've set the standard sky high so they've given me a big stick to beat them with.
"The second half, we started ok and got that goal.
"Their second one is a kick in the teeth because there is nothing in the game, neither team are creating anything. The third one is the hardest one to take.
"The lads who are in the squad have got to earn their money.
"I always harp on at them about impact, have they made an impact?
"When you have so many who aren't doing that, you are not going to get anything.
"We didn't deserve anything from this game and it pains me to say that, but we didn't."
Gavin Allott headed the hosts into the lead midway through the first half.
Cooke's stunning free kick brought Dabbers level, but on 71 minutes Shaw Lane scored a deflected effort to regain the lead.
On 86 minutes, Josh Hancock was sent off for an off-the-ball incident spotted by the referee. Moments later, Allott bundled home his second to seal Nantwich's defeat.
"Full credit to Shaw Lane, they've beaten every team from the higher league they've come across," added Parkinson.
"They've had some horrendous things happened this season with the young player they lost.
"Maybe he's looking down on them and they can go all the way in this competition.
"I wish them all the best."