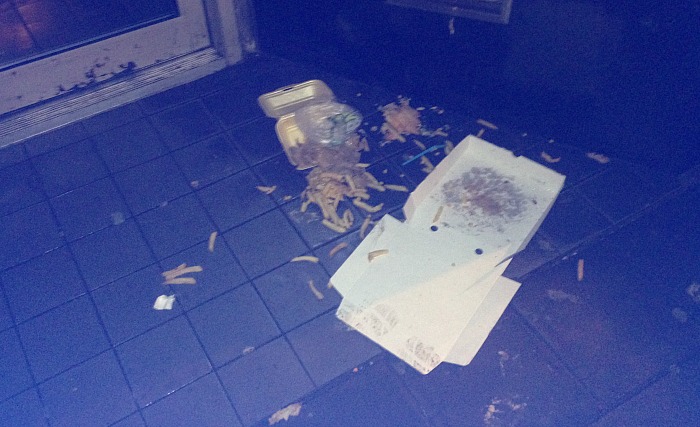 A Nantwich store employee has demanded action to crack down on drunken revellers who leave shop fronts damaged and covered in litter.
Seamus Burden, who works at B&M on Swinemarket, has had to clean away mess from late-night takeaways dumped across the store's steps for the past five years.
And recently, B&M glass doorways were kicked in and smashed.
Nantwich is busy on Tuesday, Friday and Saturday nights, and many have complained before about litter and food scattered across pavements and streets the next morning.
Councillors have previously discussed an idea of a 'late night levy' on licensed premises to pay for cleaning up the pavements and streets, but this has never been implemented.
Seamus said: "ANSA have reported this several times but Cheshire East have failed to take ANY action in the five years I have worked at B&M.
"The front door has been kicked in five times in the last five years.
"And despite a security camera facing that door, Cheshire Police have failed to convict anyone."
These pictures show mess found by Seamus at 6.50am, including a smashed window, recently.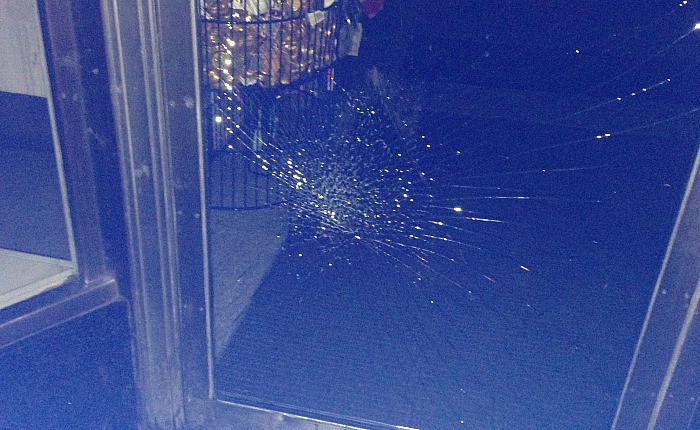 "It is the same or worse three times a week every week for the last five years," he added.
"The ANSA street cleaners report this mess regularly, but Cheshire East take NO action.
"I have emailed my own bosses at B&M to say I am sick of cleaning this mess week in, week out.
"Why do they pay business rates and Council Tax for this poor service?"
Some councillors have called for a 'late night levy' in the past.
But an extra charge on businesses which open late would be difficult to impose.
Sgt Ian Bennett, of Nantwich Police, said he would be sending officers to talk to premises about dealing with litter.
"With regards to the litter I am aware council cleaners previously always sent cleaners out very early on the morning following night time economy nights.
"This is something Cheshire East could confirm if that is still the case.
"I will send an officer down to speak with certain premises because they should be dealing with litter as part of their licensing conditions.
"With regards to late night levy, it is not as flexible as it could be, because it cannot be set up for just one particular area.
"A levy effects the entire county including premises that generate no issues."
We contacted Cheshire East Council last week for a comment, and are still awaiting a response.