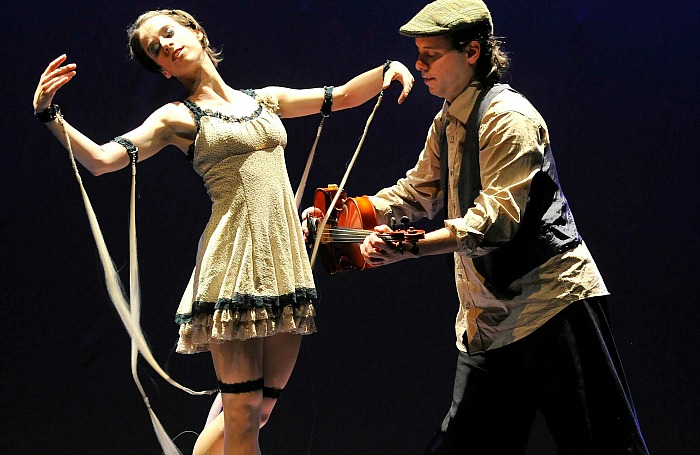 Malbank School is to stage a showing of "Blind Date" by Les Bordéliques.
The French-Canadian company, featuring former Cirque du Soleil performers, bring their madcap new show to Nantwich on Saturday March 11.
In a wacky and absurd blind date, a musician and a dancer embody three men and three women as they collide to form unlikely pairs.
From stilts to high heels, classical violin to contemporary music, step dancing shoes to ballet slippers, six archetypes bring us an amusing dating game through the tease of seduction and a comedic clash of personalities.
"Blind Date" is suitable for ages 10+.
Les Bordéliques, which is French for "the messy", are based in Québec, Canada.
The company comprises Gabriel Girouard, a musician, and Mélissandre Tremblay-Bourassa, a dancer, both of whom have performed around the world with the Cirque du Soleil.
The show forms part of Cheshire Rural Touring Arts' (CRTA) spring season of touring, taking professional arts events to rural venues and libraries across the county.
CRTA's Anne Crabtree said: "We're delighted to be able to bring such an incredible company over from Canada to perform in Cheshire for two nights only.
"Les Bordéliques have incredible pedigree, with both performers having toured with Cirque du
Soleil, so this is a real one-off chance to see them on your doorstep.
"Blind Date is a really fun show, that will appeal to everyone and make for a fantastic night out."
Tickets can be booked directly from the venue by calling 01270 611009 for Malbank School.
To find out more about the show and to see the full CRTA spring season, visit www.cheshireruraltouringarts.co.uk