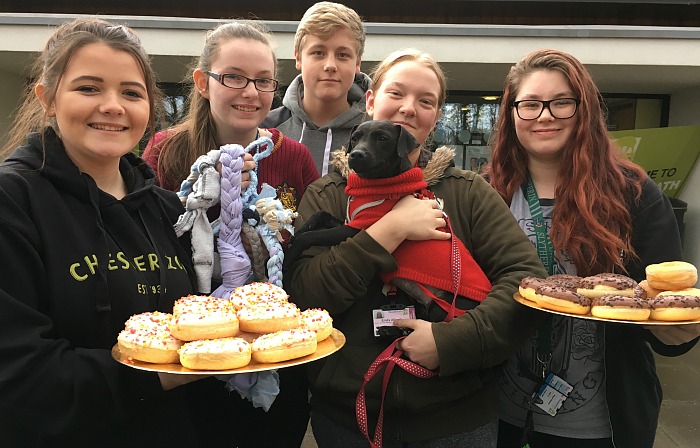 Reaseheath College students in Nantwich have joined forces to help a young abandoned dog in desperate need of veterinary care.
Tilly the cross bred terrier is being fostered by Reaseheath lecturer Emma Caskie while she waits for two life-changing operations to ease painful knee joints.
And as soon as Emma launched a fundraising page via FundRazr to help pay for the operations, the students were quick to offer their help.
Already they have raised funds by selling cakes and are busy making dog toys to sell at Reaseheath's Lambing Weekends.
Emma, an animal management lecturer at Reaseheath, hopes local animal lovers will also support the appeal.
Tilly was found wandering in Crewe by a member of the public at Christmas and was taken to Nantwich Veterinary Hospital.
She was cared for during unsuccessful efforts to trace her owner.
Practice staff, who knew Emma fosters dogs for animal rescue 'Friends of the Animals Wales', asked if she could provide a temporary home for Tilly.
Emma said: "Tilly hadn't been with me for long when I noticed she was clearly in discomfort when running with my own dogs.
"Nantwich Vets then diagnosed both of her knees were unstable and her patellas were slipping out of place, causing her a lot of pain.
"We'll never know if this is why she was abandoned, but it could be the reason why such a lovely dog was turned out to fend for herself.
"These operations will leave Tilly pain free and transform her quality of life.
"But the operations are quite costly, which is why I decided to launch a fund for her as Friends of the Animals Wales rely solely on donations to help dogs like Tilly.
"Many of our students have really taken her case to heart and are doing an amazing job raising money."
Tilly's first operation has been successful and the second will be scheduled as soon as she has recovered sufficiently.
The pooch is becoming quite a celebrity among staff and students at Reaseheath's Animal Centre.
She is being used as a case study for students learning about breed development and welfare, and responsible pet ownership.
She may also welcome visitors to the college zoo when it opens during Reaseheath's Lambing Weekends on March 4 and 5 and March 11 and 12.
To donate to Tilly's operation visit www.fundrazr.com and search New Knees For Tilly
(Pic: Students Jessica Sankey, Emily Graham, Emily Allcock, Ollie Clark and Megan Blakely launch their fundraising for Tilly)