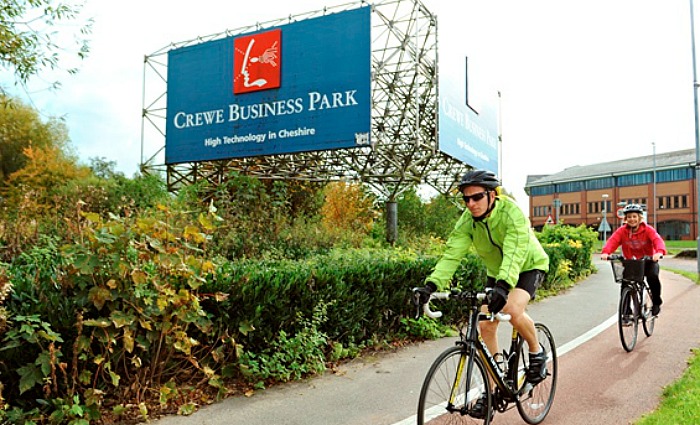 Commuters in Nantwich are being urged to swap four wheels for two and take part in a week-long "cycle to work" campaign.
Cyclists who regularly cycle to work can take part in Ride to Work week runs from March 13-19.
And new riders who want to try cycling for their daily commute.
Local employers, including Bentley Motors and South Cheshire College, have already signed up to take part in Ride to Work week.
Staff will be logging their bike journeys via the Love to Ride website.
Everyone who signs up is entered into a daily prize draw with a chance to track progress against colleagues and other employers online.
The friendly competition is being backed by Travel Cheshire, a Cheshire East Council project set up to promote 'active travel' across the borough, including cycling and walking.
Cllr David Brown, Cheshire East Council cabinet member for highways and infrastructure, said: "Cycling to work has lots of benefits and by taking part in Ride to Work week, you can see for yourself why getting to work by bike is a great option.
"By swapping the car for the bike, you'll be healthier, happier and wealthier.
"It's a great way to get a daily dose of exercise. It can set you up for a productive day at work and can save you money.
"If you already cycle to work, why not encourage colleagues to take to the saddle? If you've never ridden to work, or if you're not a regular cyclist, why not give it a try for a week.
"It's free to register and take part and you only have to ride for 10 minutes or more."
Cyclists in Cheshire East also have a chance to win prizes – including top of the range bike gear and a cycling holiday to Cuba.
Prizes include new bikes, bike luggage from recycling company UPSO, and a cycling holiday to Cuba from Exodus Travel.
Cyclists will also have a chance to win a new bike courtesy of Crewe's Community Recycle Cycles.
For more information visit www.lovetoride.net/cheshireeast