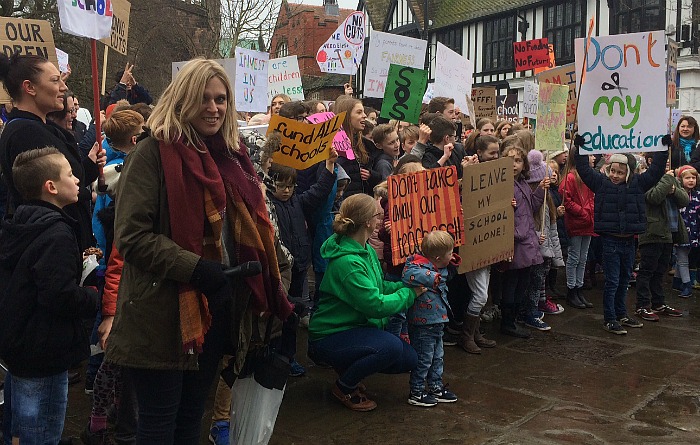 Campaigners in South Cheshire are planning a second protest against the proposed National Funding Formula which could see budget cuts in schools.
Hundreds of families gathered in Nantwich town square a week ago to voice their anger at the NFF which could see local schools more than 3% worse off.
Headteachers in Nantwich have warned of staff cuts, a reduction in subjects taught, and even radical cost-saving ideas like a four-day week.
Speakers last week included teachers, governors, parents and local councillors who all called for a fairer formula.
Under current plans, the NFF would see Cheshire East at the bottom of the funding table out of 150 areas.
Now the campaign is to stage a second protest, this time in Sandbach on March 18.
Hundreds are expected to gather at Sandbach Boys School where they will march into the town centre.
Stapeley parent Laura Smith (pictured, above) was one of the key campaigners to organise the protest last week.
She said: "After the huge success of the protest in Nantwich town square there is a demand for another demonstration.
"We have picked a central location for people from all over Cheshire East to attend to show their anger at the proposed cuts we face.
"Last time, we had 400 people – wouldn't it be great to get 1000?
"The consultation is over on March 22 so time is running out.
"We are looking for an hour of your time to try and get the national publicity and hopefully change things for our county."
Many have written to Crewe and Nantwich MP Edward Timpson, as well as Schools Minister Nick Gibb who has developed the new NFF policy.
A consortium of headteachers and local councillors met with Mr Gibb last month to lobby for a better deal for Cheshire East.