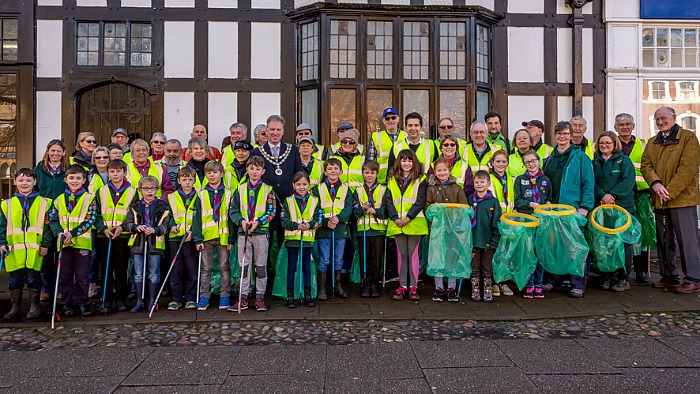 Litter pickers and Cub Scouts teamed up to give Nantwich a spring clean as part of a national Keep Britain Tidy campaign.
Volunteers with Nantwich Litter Group were joined by 7th South West Cheshire Millfields Cub Scouts for the event.
It was led by litter group volunteer and former town councillor Christine Farrall.
Volunteers gathered in Nantwich town square which included members of the Litter Group, Nantwich Civic Society, Rotary Crewe & Nantwich Weaver, Crewe & Nantwich MP Edward Timpson and Nantwich Town Council Mayor Andrew Martin.
And the enthusiastic Cub Scouts were keen to lend a hand as they are currently working to complete their environmental conservation badges.
Assistant Cub Leader Cheryl Hamlyn said: "Getting involved with community activities is a very big part of a the scouting movement.
"Activities like The Spring Clean Litter Pick really teach the children the importance of not littering and by helping to keep Nantwich tidy they feel proud of themselves and gain a real sense of community."
Volunteers divided into small groups to cover various areas of the town, gathering a number of filled green bags.
These were stacked by litter bins to be collected by ANSA, Cheshire East Council's street cleansing team.
The pick was a chance to demonstrate pride felt for the town by volunteers and to encourage everyone to become more litter aware.
A Spring Clean Pick was also carried out in Stapeley by Stapeley Litter Group volunteers, who also cleared their area of a significant amount of litter.
Nantwich Litter Group will be holding their next regular monthly Group Pick on March 29.
Anyone wishing to help or find out more about the group, contact coordinator Joyce Webb on 01270 626435 or email [email protected]