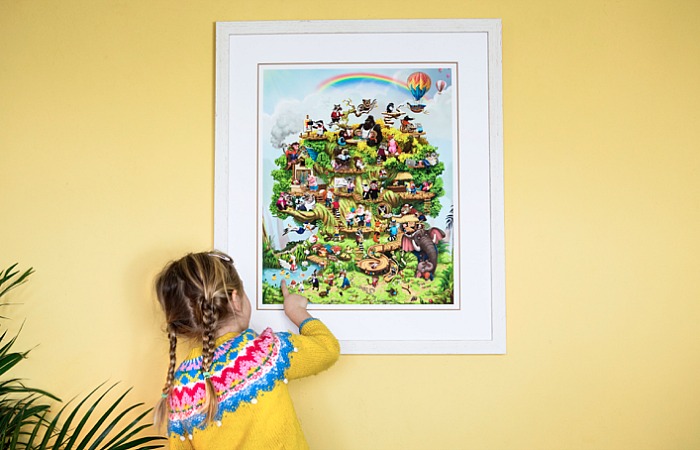 Nantwich art firm Blutulip Publishing has teamed up with children's cancer charity The Joshua Tree to launch The Life Tree painting.
Every copy of The Life Tree sold, a donation of £5 will be made to the charity which supports families living with the childhood cancer.
Graham Finch and Daniel Bailey, directors of Blutulip Publishing, attended a Bollywood-themed event where they donated a personalised picture in support of the charity.
Graham said: "We knew we wanted to work closely with a local charity, to make a difference to our community as The Life Tree grows.
"The Joshua Tree is a very worthy cause and because some of the messages depicted throughout The Life Tree will resonate with families facing challenging times, it was an obvious choice for us to support them."
Peter Smith, business development director at The Joshua Tree, added: "We welcome the support and are pleased to have been chosen as its local charity.
"Partnerships like this help us to continue to support families facing childhood cancer completely free of charge."
It is a piece of artwork which follows life's journey from birth to old age and beyond.
Each painting is accompanied by a book of verses with each verse relating to a different scene in The Life Tree.
The picture is also available as a free to download app.
Through the app children can interact with different scenes in the picture and the verse of wisdom relating to that scene is narrated to them.
Daniel and Graham wanted to create a bespoke piece of illustrative artwork for children that would inspire their imagination.
"As a child I remember being captivated by the illustrations in my books," Graham added.
"Dan and I started to think about how we could incorporate that sense of wonderment and true illustrative art into a stand-alone painting.
"We hope everyone who has the picture will treasure it and our greatest wish is it becomes so well-loved it is passed on to future generations, which is why we say that no one owns a Life Tree they are simply its Guardian!"
The concept was brought to life by Russian illustrator Lisa Beta.