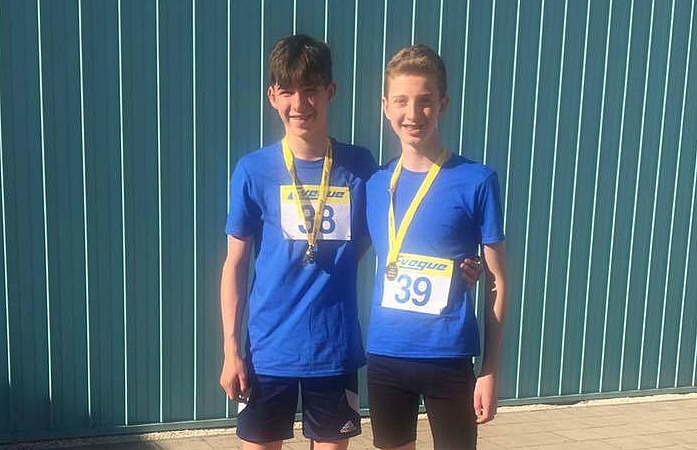 Young Crewe and Nantwich athletes excelled at the UK Sportshall national finals at SportCity in Manchester.
Under 13 boys and Under 15 girls teams from Cheshire, which won their regional finals, competed against the UK's best.
And the Cheshire teams included six Crewe and Nantwich AC girls in the U15s and seven in the U13 boys.
Two boys – Oliver Atkinson and Ben Verbickas  (pictured, above) – scooped a gold medal in the 8-lap parlaaf.
Another medal winner was Sean Sides, who won a silver in the speed bounce event.
Other athletes with notable performances included Zoe Leydon, fourth in the speed bounce, Hollie Campbell, fourth in the vertical jump.
Hollie was also the best placed Cheshire girl, finishing 18th best in the UK.
Ben Verbickas also finished fourth in the two-lap event for the boys.
Tia Campbell was sixth in the two-lap race, and Hannah Whelan was sixth in the standing long jump.
Cheshire girls finished in seventh place out of 11 teams from across the UK.
The Cheshire boys also finished seventh place.
Crewe & Nantwich AC team manager Kay Leydon: "All our athletes performed incredibly well against the best young talent in the UK.
"It was an amazing experience, one they'll never forget, and we're all proud of their achievements."