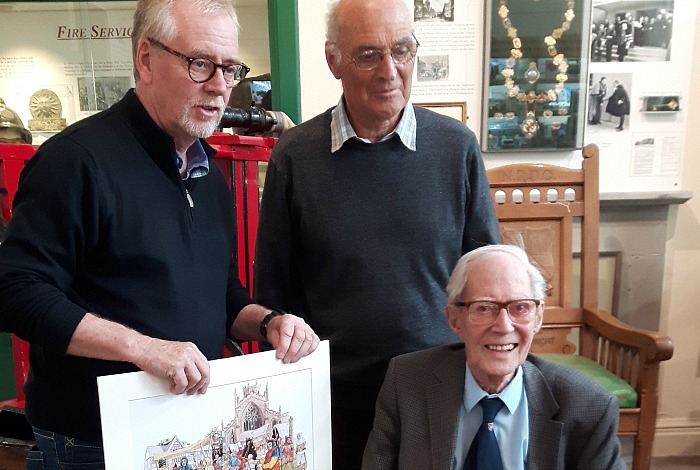 A former Nantwich Museum volunteer was honoured for his 23 years' service when he re-visited the Pillory Street venue.
Allan Whatley, now aged 104, was presented with a painting of Nantwich Medieval Market by chair of the museum trust Nick Dyer in recognition of his service.
Allan, who is moving to Scotland, retired from the museum in 2011 where he had worked as a volunteer for 23 years.
During that time, he manned the front desk where he enjoyed meeting visitors and learning from them more about the history of the town.
He was also Secretary to the Museum Trust for two years.
His library and information skills were invaluable in his work on the museum's collection of documents and photographs, which included the archiving of Peter Ray's notable collection of photographs of Nantwich.
He wrote numerous articles for newspapers, magazines, visitor guides, booklets and the internet.
In 1992, Allan published 'Nantwich in old picture postcards'.
He was a founder member of the Crewe and Nantwich U3A (University of the Third Age).
And he also headed the Nantwich local history group which originally met in the Joseph Heler Room at the museum.
A museum spokesman said: "Many students have benefited from and been inspired by his work on local history encompassing all aspects of the town's history including buildings, people, events and streets."
In 2009, the Museum Trust awarded Allan the Dutton Prize, given to unsung heroes for services to the community of Nantwich.
Most recently, Allan donated to the museum his comprehensive Nantwich history files.
They are now being catalogued and will prove invaluable to future students of the town's history.
'Cocoa House and Yard', a research booklet based on Allan's research, has recently been published and is available from the museum shop £2.95, all proceeds in aid of museum funds.
Contact Nantwich Museum on [email protected], call 01270 627104, visit www.nantwichmuseum.org.uk