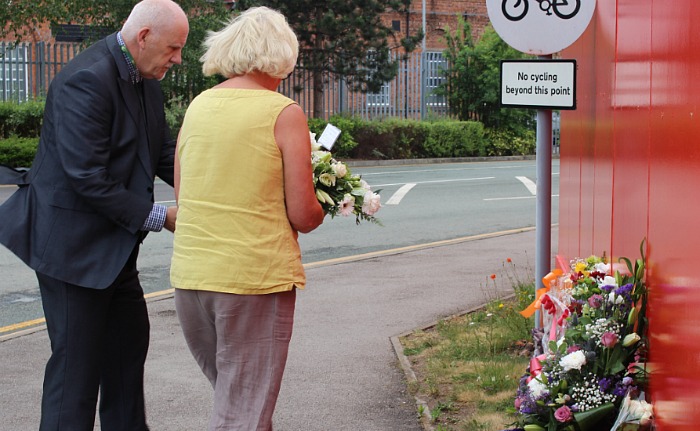 Councillors have laid flowers near to the site of the tragic crane collapse in Crewe which killed two workers.
Emergency services were called to a new-build site on Dunwoody Way after reports of a collapsed crane.
Two men died as a result of the incident.
A third man was taken to Royal Stoke University Hospital with serious injuries, which are not believed to be life-threatening.
The crane also damaged a property neighbouring the development site. The occupiers were not injured.
Today, Cllr Paul Bates, cabinet member for finance and communities at Cheshire East Council, Crewe Town Council Leader Simon Yates and Crewe Mayor Diane Yates laid flowers near to the scene of the incident as a mark of their respect.
Cllr Rachel Bailey, Leader of Cheshire East Council, said: "I was deeply saddened to hear of this tragic incident.
"My sincere condolences go out to the families affected by this and I hope to write to them personally.
"As a result of the crane collapse, a residential property was damaged.
"I can confirm that officers from Civicance, a wholly-owned company of Cheshire East Council which provides building control services, did attend the scene at the request of the emergency services to assess the damage.
"The occupants of that property have made alternative living arrangements while the investigation into the incident continues."
Cllr Yates said: "Our sympathies and deepest condolences go to the friends and families of those affected by this tragic incident.
"We also extend our special thanks to the emergency services whose dedication and professionalism has been amazing."
The authority is working with police and the Health and Safety Executive to establish the circumstances around the collapse.
(Pic: Cllr Paul Bates, cabinet member for finance and communities at Cheshire East Council, and Crewe Mayor Diane Yates laying flowers near to the site)