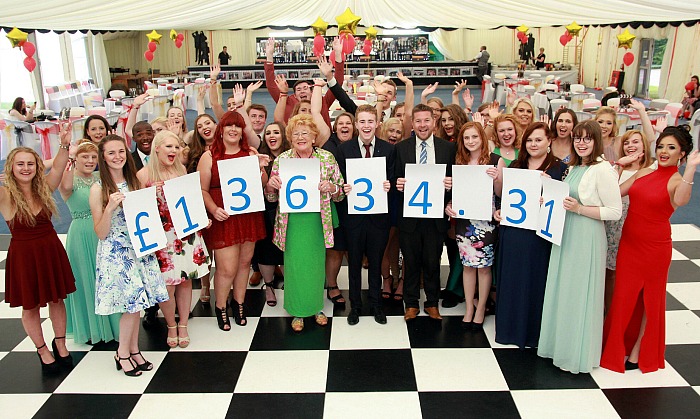 Big-hearted students and staff from Reaseheath College have raised more than £13,600 for North West Cancer Research.
The amount was handed over by the college's Student Association at the student summer ball held on their Nantwich campus.
The money will go towards a PhD studentship focusing on pancreatic cancer, which is on the rise throughout Cheshire and Merseyside.
North West Cancer Research is an independent charity which funds life saving research projects at the universities of Liverpool, Bangor and Lancaster.
Fundraising Manager Bobby Magee said: "This is an incredible total for a group of young fundraisers.
"We focus on funding local projects and this one seemed particularly relevant, as it involves research by an up and coming graduate.
"Hopefully, the findings will enable us to gain a better understanding of pancreatic cancer and will, in time, help us to save loved ones locally."
The students chose North West Cancer Research as their charity of the year because most know someone who has been affected by the disease.
They organised more than 100 events including activities at Reaseheath's Family Festival and lambing weekends.
College mascots, Daisy the cow and Pride the lion, took the campaign into the community at the region's agricultural shows.
RAG (Raising and Giving) week activities, which raised more than £4,600, included a themed RAG ball, a tractor pull, a raft race on the college lake and a sponsored climb over the O2 Arena in London.
All the college's entry and foundation level students have been involved, raising £1,471 over three events – a 'Glad Rags and Glitz' second hand pop up clothes shop, a 'Canter for Cancer' fun race round the college lake and a Christmas craft fair.
Staff versus student sporting activities were also popular, with matches in netball, football and cricket, a trampolining event and even Bollywood zumba.
Student Association President Dan Lee said: "I'm very proud of the SA team, who worked really hard to put together a programme of activities which everyone could enjoy.
"We also had huge support from all staff and students and from North West Cancer Research itself."
Students and staff raised £7,100 for other charities including Leighton Hospital's Special Care Baby Unit, Macmillan Cancer Support, Comic Relief and the Poppy Appeal.
Over the past 29 years, Reaseheath students and staff have raised more than £268,000 for local causes.