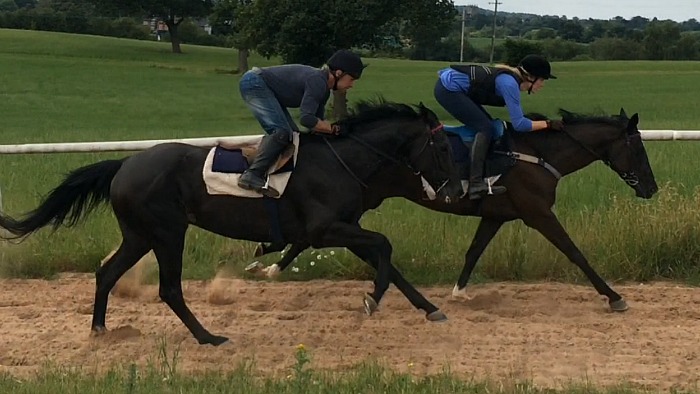 Three amateur South Cheshire riders are saddling up to tackle the world's oldest surviving horse race.
Patrick Chesters, Gemma Mathers and Mick Mullineaux will be among the field of 15 jockeys in the 2017 Newmarket Town Plate.
The race – this Thursday July 13 – kicks off the July Festival at Newmarket's Adnams Course.
For many years, the Newmarket Town Plate was seen as one of the most prestigious races in the land.
Now it offers a true piece of historical eccentricity for those who can take on the challenge. It's open only to true amateurs and is run over a three-and-a-quarter miles.
It is run on part of the same track as the original race in which King Charles II rode in the 1600s.
Nantwich-based bookmaker Patrick runs a business in Liverpool and works as a betting consultant for Chester and Bangor Racecourses.
Since the retirement of his own horse, Clowance House, he has been riding out part-time for Oliver Greenall, who has lent him Threapwood for the race.
Patrick was 3rd in last year's Town Plate and is looking to do two better this year.
Alpraham-based trainer and breeder Mick raced in the Town Plate years ago, and would love to ride it again to see if he can seal a place in history.
And Tarporley-based programme manager Gemma has ridden horses all her life, competing in various equestrian disciplines.
She caught the racing bug two years ago when she re-homed her first ex-racer, and says it's a dream come true to ride in the famous Town Plate. She is raise money for Warrington-based St Rocco's Hospice.
Winners not only claim their own piece of history, but gain a jockey's prize of a Perpetual Challenge Plate, a photo frame, a voucher for Newmarket High Street clothing store, Golding and a box of Powters Celebrated Newmarket Sausages.
(Pictured: Gemma and Mick in training for the big race)