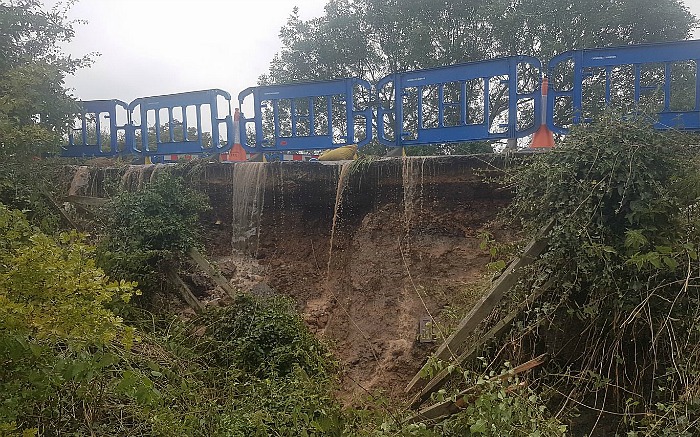 A second water mains leak in Nantwich in 24 hours has added chaos to roads and water supplies in the town today.
The A530 Middlewich Road at Alvaston remains closed after yesterday's burst caused major flood damage to carriageways.
Now a second leak, reported at around 8am, has left hundreds of households facing more disruption to their water supplies.
Yesterday's incident, which happened at around 6.30am, caused large areas to be flooded in the Colleys Lane and Middlewich Road area.
The force of the flood destroyed fencing at the sides of the road, as shown by pictures sent in by readers (below).
United Utilities engineers worked for hours to repair the leak, and water tanks were sent to the scene to pump supplies back out to surrounding properties.
It was eventually repaired at around 1pm, but supplies were disrupted throughout the day.
The second burst was reported at around 8am today.
A United Utilities spokesperson said: "There has been a second burst on Middlewich Road that may be causing no water or poor pressure.
"A team of engineers are on route to repair and we are working to fix this as soon as we can."
The A530, used to access Leighton Hospital and a main route to Middlewich and further north, could remain closed for "several days".
A Cheshire East Council Highways spokesperson said: "The road remains closed. Investigations are ongoing to determine repairs required & we will update you when investigations are complete."
United Utilities added: "Due to the consequential damage to the road, the road closure will stay in place for the next few days for the local council to carry out remedial repairs."
Click here for more updates on water supplies, pressure and water discolouration.