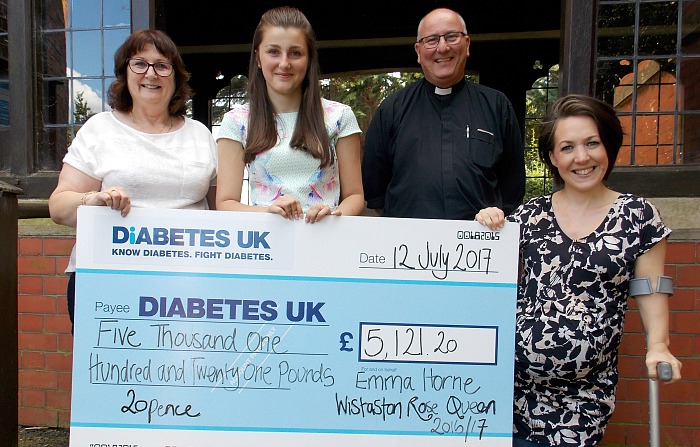 Retiring Wistaston Rose Queen Emma Horne has presented a cheque to Diabetes UK for more than £5,000.
Emma, 15, who was crowned Rose Queen in June 2016, raised an amazing £5,121 through various activities over the past 12 months.
She chose the charity as she has friends and family with Type 1 diabetes.
And during her year as Rose Queen, Emma's dad Michael was also told he was at risk of Type 2 diabetes.
Emma said: "We have had a really enjoyable year with a number of events including tea dances, a 'onesie party', plant sales, Christmas fairs, a fashion show, a Chinese New Year themed quiz night and a calendar for 2018 with photographs of the events.
"I cannot thank enough, everyone who has helped organise, donated time and expertise, donated raffle prizes and supported these events.
"Without them, we would not have been able to raise the magnificent sum of £5,121 for Diabetes UK."
Money raised will be donated to a diabetes research project being undertaken at The University of Manchester by Dr Jenny Myers, which is monitoring mothers-to-be with Type 1 or Type 2 diabetes and their unborn babies.
In women with Type 1 or Type 2 diabetes, their babies can grow too small or too large during pregnancy, and this is thought to be linked to the mother's blood glucose levels.
Research could help prevent problems during pregnancy and birth for mothers-to-be with diabetes and their babies in future.
The research is important for Emma and her family as Michael's eldest daughter Laura has Type 1 diabetes and is expecting a baby in August 2017.
Emma's mum Chris and dad Michael added: "We are very proud of the lovely and fulfilling year we have had supporting Emma as Wistaston Saint Mary's Rose Queen with her fund raising.
"It has been very rewarding to see the positive reaction and support from the whole local community as they have supported Emma's events.
"A real happy community spirit across all ages, from 3 years old to 93 years, a really enjoyable time."
Diabetes UK Regional Fundraiser Maria Whittaker said: "Emma has put in a huge amount of work over the past year, raising vital funds to help people living with diabetes.
"We are extremely grateful to Emma and everybody involved in all the fundraising activities.
"Every penny raised will help us realise our vision of a world where diabetes can do no harm."
To find out more about the research Diabetes UK supports visit https://www.diabetes.org.uk/Research/