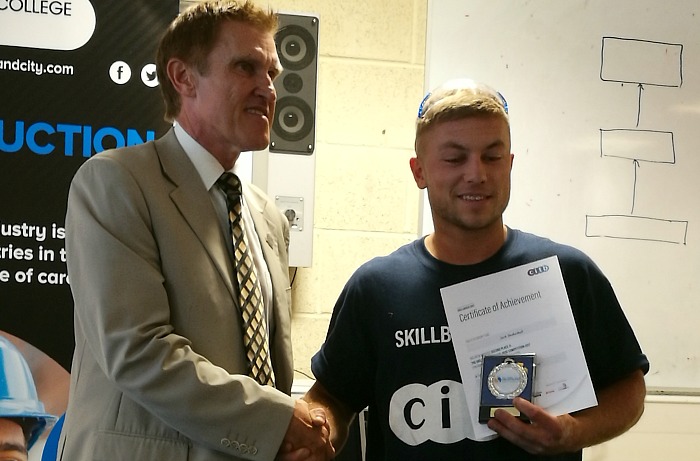 Nantwich student Jack Shakeshaft will be hoping to build on his bricklaying success – after scooping second place in a national competition.
Jake, 20, a student at South Cheshire College, put his skills to the test in the Bricklaying category at the SkillBuild competition in Birmingham.
He was joined by fellow student Jamie Richardson, 18, from Crewe, who took part in the Carpentry category.
Jack said: "Having made an unfortunate wrong turn on the way there and ending up at the wrong location, I was slightly on the back foot having arrived late to the competition with not much time to review the plans!
"However, I soon gained momentum and got stuck in.
"We were given five hours to replicate an intricate design in building work, which takes time and precision.
"When thinking about a bricklaying competition, people expect grand structures but it was more about the complexity of the design and numerous elements that we were tasked with completing as opposed to the scale.
"The standard was very high so I was really pleased to gain second place, as was my boss, although given I came so close to that top spot I would have loved to have won!"
Jack completed a two-year course at South Cheshire College, gaining Level 1, 2 and 3 qualifications in joinery, and going on to fulfill a Bricklaying Apprenticeship, studying one day a week at the college.
Jamie secured third place in the regional heats in the Carpentry category.
"I was really chuffed to gain a top three placement and pleased that the college put me forward for the competition.
"The challenge was to make a miniature traditional roof, including wall plate and fascia boards, which had to be completed to the highest quality and all within six hours.
"I totally didn't expect to land a top three position, as I've had limited practice.
"I was completely shocked and surprised when they announced my name but was delighted to have gained third place."
For more information on studying in Construction at South Cheshire College, visit www.scc.ac.uk or call the college hotline on 01270 654654.
(Top – Jack winning second place at Skillbuild. Below – Jamie at work in the classroom)