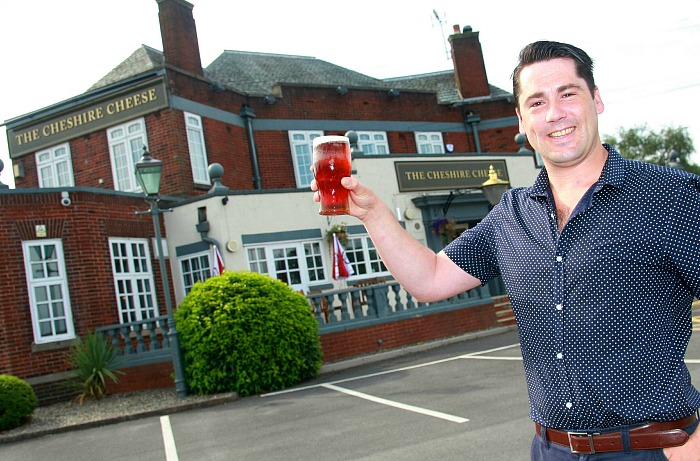 A chef trained to the exacting standards of Gordon Ramsay has taken over a landmark South Cheshire pub.
Adam Scally, 37, is planning a host of August Bank Holiday activities for families to enjoy as he settles in as landlord of the historic Cheshire Cheese at Shavington.
The pub, dating back to 1851, has changed hands several times down the decades and was previously an Indian restaurant.
It stood empty for almost a year before being bought by Greene King Pub Partners.
And now with Adam newly-installed as licensee, there are great plans for its future including a major refurbishment.
Adam said: "It's fair to say the Cheshire Cheese has had something of a chequered history.
"But my aim is to make it a real community hub, where customers can enjoy good food and family time.
"August Bank Holiday will be a great time to showcase this lovely Victorian building and its gardens.
"I hope to say hello to many local families."
Originally from Chester, Adam began his career peeling spuds in the kitchen of luxury hotel Rowton Hall before becoming a silver service waiter.
He hails from a family who run a string of Welsh pubs – the Fox and Grapes at Hawarden, The Gladstone at Penmaenmawr, Castle View at Deganwy and Liverpool Arms, Conwy.
After training with Gordon Ramsay in his 20s, and working as a chef in his famous Maze Grill in London, he worked in Thailand for celebrity chef, Patcha Samed, before moving back to the capital to take up a position at Jamie Oliver's Italian restaurant on Threadneedle Street.
His menu at the Cheshire Cheese is a mix of traditional pub classics and contemporary dishes at pocket-friendly prices, such as British beef and ale pie for £9.49 or Sweet Chilli Chick Linguine at £12.99.
He added: "All my experience and passion for quality food goes into the dishes. If you can get a great meal at a great price, in my view it's happy days."
New on the menu is a range of high-end gins – 17 with plans to increase to 30 ahead of an autumn gin festival.
A barbecue, bouncy castle and live 'easy-listening' music are among attractions over August Bank Holiday weekend.
Clive Chesser, managing director of Greene King Pub Partners, said: "We are delighted Adam has taken over the running of the Cheshire Cheese pub.
"We aim to work with the very best partners and we've been especially impressed with Adam's professionalism and passion for the pub.
"We're thrilled to be working in partnership with him to make the Cheshire Cheese a vital part of the community.
"It's only been a short period since it reopened under Adam's leadership but he's already doing exceptionally well and people are clearly impressed with what he has to offer."