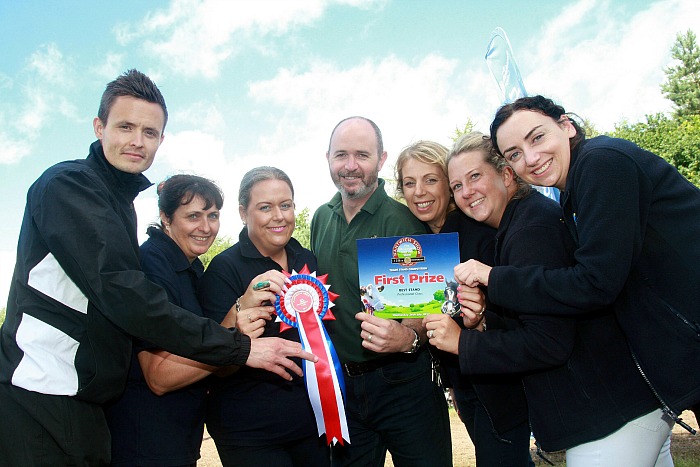 Reaseheath College celebrated a number of awards at Nantwich Show – and brought a bit of romance to the event too!
The college's stand was judged the best professional trade stand at the Show on Dorfold Park, ahead of scores of others.
Judges praised it for the diverse 'hands on' activities, friendly staff and efforts to engage with and educate the public.
Pictured (above) are staff members Stuart Fisher, Elayne Frost, Claire Wright, Jamie Cook, Stephanie Owen, Jess Davies and Susie Menlove, who helped run the stall throughout the day.
Reaseheath College 'Eden' dairy technology students Phil Halliwell and Charlotte Gaskell also scooped an award.
They received the Best Student Cheesemaker accolade from Reaseheath's Stephanie Owen and Vice Chair of the International Cheese Awards, Ian Luxton (pictured, below).
And Reaseheath College dairy technologists Laura Broome and Elliott Bateman helped bring a spot of romance to the Nantwich Show.
The couple chose the Nantwich International Cheese Awards to announce their engagement!
A cheesy celebration maybe, but good luck to the happy couple (pictured, below).