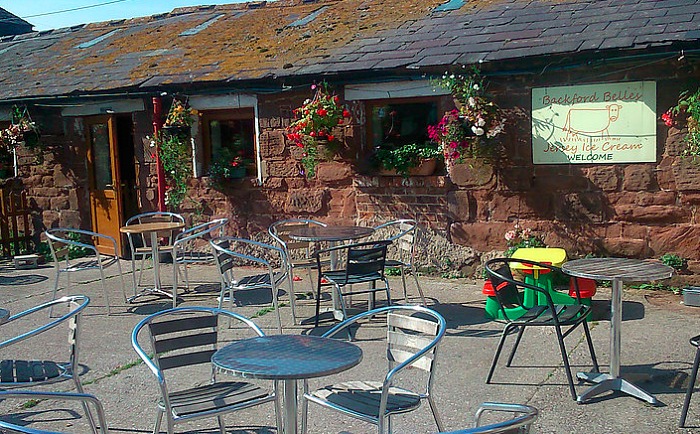 A Cheshire ice cream firm hopes to have its competitors licked after a Nantwich college trained bosses to business success.
Marketing classes helped family-run Backford Belles move from dairy to digital, and significantly grow its business.
The Chester-based firm, which run by a team of siblings, was launched in 2009 as an ice cream parlour and dairy farm.
Home to more than 40 Jersey cows, the farm uses their milk as the main ingredient for the family's award-winning homemade ice cream.
Mark Littler, owner of Backford Belles, signed up to a digital marketing workshop at Reaseheath to learn how to promote the business online and connect with new customers through social media.
Now, with wife Louise, they have created an ecommerce website to strengthen their offering and take their business to the next level.
The results have led to an influx of new customers.
Mark said: "As a small independent business, raising awareness of our brand in the local area and appealing to local people is a key objective for us.
"It's important we tell people about the unique nature of our ice cream and about how much importance we place on employing local people and working with local suppliers in the area.
"Our next steps in terms of growth are definitely looking at ways of gaining additional funding to really take the business to the next level.
"It's a really exciting time for Backford Belles and we're very grateful to Reaseheath College for their fantastic support – we've learnt a great deal about digital marketing and how to take our business into the online market."
Janet Nuzum, ERDF business advisor at Reaseheath, said: "It has been a pleasure to work with the team at Backford Belles and it is wonderful to see them benefit from the advice and support from our SME growth programme team.
"The independent agricultural industry is an area we've particularly focused on because it's becoming an increasingly competitive market place.
"We're lucky to have some amazing SME businesses in this sector across Cheshire and we're really pleased to be helping local businesses like Backford Belles really standout from the crowd."