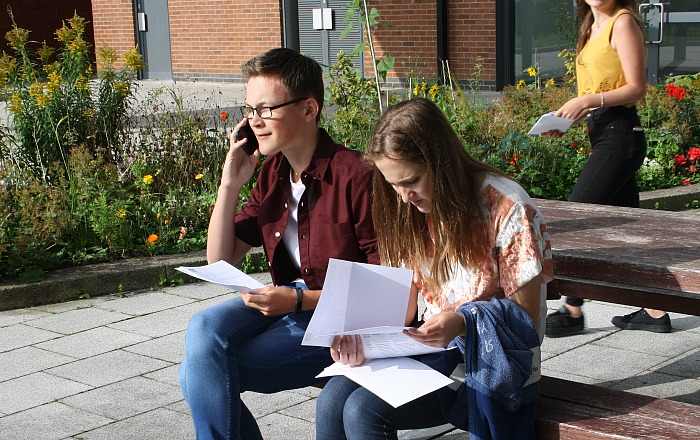 Students and staff at Brine Leas in Nantwich are celebrating an excellent set of GCSE results.
It's the first set of results under the new style 9 to 1 grades.
All subjects, except English and Maths, have been graded using existing measures of A* to G.
However, the new grade 5 straddles part of a C to a B grade, and the new grade 9 will only be awarded to 3% of the country.
A grade 4 is defined as being a pass grade.
The Audlem Road school set internal targets while it waited for the publication of Progress 8 data – which will compare student performance at Brine Leas with similar UK schools.
And the percentage of students gaining a pass in 5 or more subjects including English and Maths is 79%.
More than 5% of students from Brine Leas gained a 9 in English, English Literature or Maths.
29 students averaged better than an A in their 'Attainment 8' subjects, which is used to compare schools.
In terms of targets, the school met or exceeded almost all internal measures.
24% of students gained an A* to A, or equivalent.
With the new grade 9 included in the 'Attainment 8' figures, four students averaged better than an A* – Charlie Wilson, Luc Parry, Georgina Hardy and Tom Taylor.
Overall, 'Attainment 8' figure is provisionally 50 with 25% achieving English Baccalaureate – passes in English, Maths, a Science, a language and History or Geography.
Brine Leas says the gap between disadvantaged students and others has closed significantly.
Students with an EHCP (Education Health Care Plan) also performed above target.
In English, 89% gained a grade 4 or better and in Maths the figure was 82%.
In English, 76% gained a grade 5 or better and in English Literature the figure was 71%.
Working on the old system of grading, in Triple Science the figure for A* and As was over 50%.
Sixteen separate subjects saw 25% or more of their students gain an A or an A*.
Latin results came in with 100% at A or A*.
Brine Leas headteacher Andrew Cliffe said: "Students can only do their very best, assisted by great teaching and supportive families.
"This year the pattern across the board is outstanding with many students exceeding their wildest expectations whether that be 12 A*s or a set of E and Fs.
"With a hybrid system of grading, the 2017 results will be confusing for many people to understand but over time the headline figures will be comparable from year to year.
"However we believe that this set of results is excellent."
(Pic above: Ben Redfearn and Isabel Lloyd study their results and share the good news)
(Pics below:  Charlie Wilson delighted to attain top grades in all his subjects; Hannah Billington and Emma Wells were quick to tell others; Tom Fenney and Cameron Barker congratulate each other; Andrew Cliffe, congratulates Beth Cassidy on her grades; George Johnson and Elliot Wollaston compare each other's success; Charlotte Davies, Ethan Blakeman, Herbie Thompson and Jazmin Mort relax now that the wait is over)