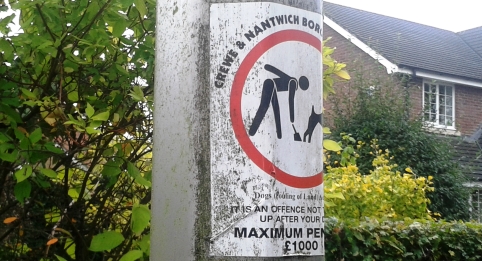 Council chiefs are seeking stronger powers to tackle dog fouling which plagues the streets and open spaces of Nantwich and Crewe.
Cheshire East Council wants to impose a Public Space Protection Order (PSPO) on all its public spaces.
This would introduce local laws banning dog fouling, allowing officers to order dogs to be kept in leads where necessary, and issue fines of up to £100 for breaches of the PSPO.
The authority is set to launch a public consultation to see if residents agree with bringing in a PSPO.
A council spokesman said: "We do recognise that most dog owners are responsible and would like to thank them for their continued support in helping to keep our public areas clean.
"Cheshire East Council has a statutory duty to keep land clear of litter and refuse (including dog fouling) and a duty of care for dealing with waste.
"We also have a duty to take action against irresponsible individuals who fail to clear up after their dogs on land which is open to the public.
"Not only is dog mess highly unpleasant, it is also a hazard to health – particularly to children.
"Introducing the PSPO would allow the council to replace and extend the existing dog controls and byelaws.
"This will give a consistent approach across the borough to dog fouling as well as introduce dog control requirements, to encourage responsible dog ownership, to ensure that everyone is able to enjoy our open areas, country parks and public spaces safely."
Figures revealed by an FOI request revealed only around 20 fines were issued for dog fouling in 2016, and only 30% of those were paid.
The PSPO consultation will run for four weeks from September 12 to October 10.
Residents can complete a consultation survey here.
For more details or help with the survey, contact the anti-social behaviour team on 0300 123 50 30 or email [email protected]