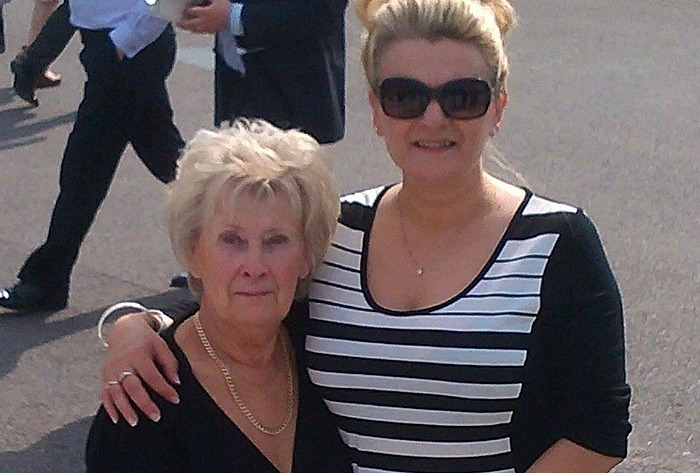 The grieving daughter of a popular Nantwich pensioner has paid tribute after she died in a road accident on the A534.
Beryl Hilton, 84, was a passenger in a car which collided with a lorry on Nantwich Road, near the Old Manor pub.
She was flown to Royal Stoke Hospital, but passed away from her injuries two days later on Saturday (September 9).
Her husband Roy, who was driving, was injured and taken to Leighton Hospital. He is recovering.
Today, the couple's daughter Tish Cliffe (pictured with Beryl) paid an emotional tribute – and thanked passers-by, including an off duty nurse, who ran to help her at the accident scene.
Tish, a former Brine Leas School student, said: "Mum was 84 and was a true Dabber and had lived in Nantwich all her life.
"She was married to dad for 65 years and they were inseparable.
"The nurse was Kirsty Louise Dando, who has been in touch with me and who I have invited to mum's funeral and she says she would be honoured to attend.
"I have also had messages from Amanda Sant who was first on the scene and Diane Hartley went to help who was working at the Manor at the time.
"There were a lot of people who went to help and I would like to say thank you to them all."
Kirsty, 26, from Crewe and who works in emergency care at Leighton Hospital, said her nursing instincts kicked in as soon as she drove past the accident scene.
"There were a couple other people who were there.
"I was driving at the time. I must have pulled up just a minute after it had happened. I kind of just went on auto pilot and got straight in there.
"I've passed incidents before and obviously stopped at them, but nothing quite like this one.
"It would be an honour to attend her funeral."
Scores of others have paid tribute to Beryl on social media.
Her funeral is due to be held on Monday September 25 at St Mary's Church in Nantwich at 1.30pm.
Cheshire Police confirmed no one has been arrested in connection with the collision, but an investigation is ongoing.
Anyone with any information in relation to the incident is asked to contact Cheshire police on 101 quoting incident number 337 of 7 September.