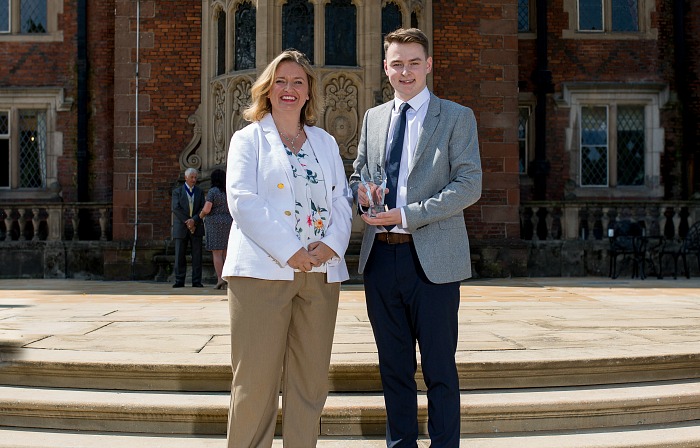 South Cheshire Chamber of Commerce is on the hunt for the Young Apprentice of the Year as part of its annual awards.
Organisers are expecting a flurry of activity as deadline for its 21st anniversary Business Awards draws near.
The awards recognise success in all types of businesses from start up enterprises to large, established firms.
With 11 different categories, they also celebrate the achievements of young people setting out on their business careers and companies that go the extra mile to give back to their local community.
Apprentice of the Year, sponsored by Bentley Motors, recognises commitment to personal development and progression on a recognised learning scheme.
Last year, 20-year-old software engineering apprentice at The Travel Visa Company James Healy took top honours.
James said: "Being recognised for my hard work and commitment to my apprenticeship with The Travel Visa Company was a huge achievement and I was extremely proud to receive the Apprentice of the Year award.
"It gave me the confidence to take on more responsibilities, promote apprenticeships in my local area and progress my learning on to a four-year degree course."
Fresh talent is also recognised in the newly-named Young Leader of the Future category, previously Young Business Person of the Year, and sponsored once again by KPI Recruiting.
This is open to people aged 26 or under who have demonstrated leadership qualities and a proven contribution to business.
They can run their own company or be employed in the public, private or third sector.
Sam McGarrigle, who runs Beer Dock in Crewe and Nantwich, has twice toasted success.
He said: "It was a great honour to win Start Up Business in 2014 and then go on to be named Young Business of Person of the Year.
"It certainly helped to raise profile and grow the business."
Meanwhile, South Cheshire College and Cheshire Connect have teamed up as sponsors of the Contribution to the Community award which recognises the community-spirited actions of businesses supporting charities and not-for-profit organisations.
Health and safety specialists Rhino Safety were honoured in 2016 after offering their expertise to a number of organisations including Nantwich Food Festival.
Cate Walter of Rhino Safety said: "We were immensely proud to receive recognition for our work with local third sector organisations, especially as a small and relatively new business in comparison to previous winners of this award.
"The Chamber awards have been a fantastic platform for us, and we would encourage local businesses who are considering entering to do so."
Other categories and sponsors are:
Ambassador of the Year, Cheshire & Warrington Local Enterprise Partnership (LEP), Business Start-up of the Year, South Cheshire Development Agency Ltd, Business of the Year (under 25 employees) Hibberts LLP Solicitors, Business of the Year (25 plus employees) RBS, Employer of the Year, Assurant, Excellence in Customer Service, Jones Sheridan, Healthy Workplace and Wellbeing Award, ctchealthcare and Everybody Sport and Recreation, International Trader of the Year, Manchester Metropolitan University.
The awards are free to enter and open to Chamber members and all businesses in the Crewe and Nantwich borough. You can also nominate a client or supplier.
Chamber Chief Executive Paul Colman said: "The Chamber is proud to organise an event which raises the profile of South Cheshire as a thriving business region and inspires others to go on and do great things."
October 6 is the deadline for entries.
For more information call the Chamber on 01270 504700 or visit www.sccci.co.uk
(Pic: Apprentice of the Year James Healy with Sally Hepton of the category sponsors Bentley)