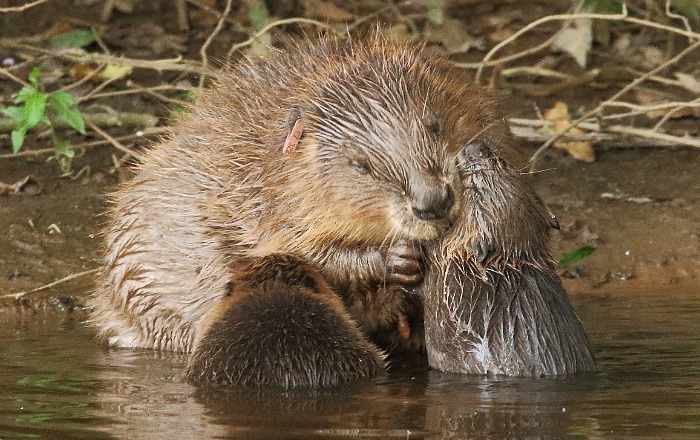 National beaver expert Derek Gow will be in Cheshire to give a talk on the how the animal's re-introduction could impact the countryside.
Cheshire Wildlife Trust is hosting the one-off talk at its headquarters at Bickley Hall Farm, between Malpas and Nantwich.
Several reintroductions of beavers are now either underway or being researched across the UK including in Scotland, Dorset and Wales.
A growing body of evidence suggests beavers have a key role to play in restoring nature in our countryside.
They are a native species, which was hunted to extinction in the UK 400 years ago.
They are a keystone wetland species, known for their dam building and tree-felling activity.
This not only creates their home, but also provides the ideal habitat for many other plant and animal species and can play a role in flood prevention.
Derek, a consultant ecologist, is co-author of 'The Eurasian Beaver Handbook' published in 2015.
He has been directly involved in the re-introduction of the European beaver in Devon and Scotland.
"We are delighted to be hosting an audience with the UK's leading expert on this topic," said Martin Varley, Director of Conservation at Cheshire Wildlife Trust.
"Derek Gow is at the forefront of beaver re-introduction and will be joining us to tell the story of the beaver comeback in the UK, sharing his experiences of the projects he has worked on along the way."
His talk 'The Return of the Beaver to the UK' will be held at 7.30pm on Thursday September 28 at Bickley Hall Farm, Malpas, Cheshire, SY14 8EF.
Tickets are £5 including tea/coffee and can be purchased online at www.cheshirewildlifetrust.org.uk/whats-on or by calling 01948 820728.
(Pic: By Mike Symes/Devon Wildlife Trust)