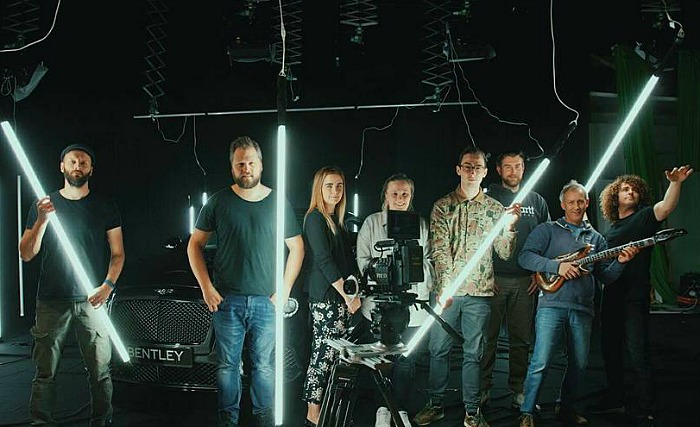 Two South Cheshire College students were in the driving seat when they helped a production team working on a Bentley Motors spec advert.
Felicity Davies, 18, from Nantwich, and Amelia Sanlon, from Northwich, worked with professional company David Ellison Films for their work experience.
And that involved helping out on a spec portfolio car advert using a Bentley car loaned to them by Bentley Motors Ltd.
David Ellison, director of the shoot and owner of the company, allowed the BTEC Media students to work as runners and assistant camera operators for the piece.
The students used top-end industry equipment, working in a variety of roles on set including above entry level roles, and got some great advice from crew members about their future careers in the media.
David said: "Working with South Cheshire College was an absolute joy, they provided enthusiastic and talented student filmmakers who came and worked very hard on our shoot.
"This also opened up the door for us to get Bentley's help and give them an opportunity to not only work with their apprenticeship path in the college, but also assist the media department which they jumped at the chance to get involved with.
"Bentley has shown how much they support South Cheshire College and their students by giving this shoot a car and as much help as we could get.
"We hope very much to work again with the College on future projects using their students and continue our working relationship."
Felicity said: "It was a unique opportunity to work on a professional film set and I am grateful for the experience and advice that the crew have given me.
"It was an experience that will be useful for my future career in film."
(Pic: David Ellison, 2nd from left; Amelia Sanlon, 3rd from left; Felicity Davies, 4th from left)