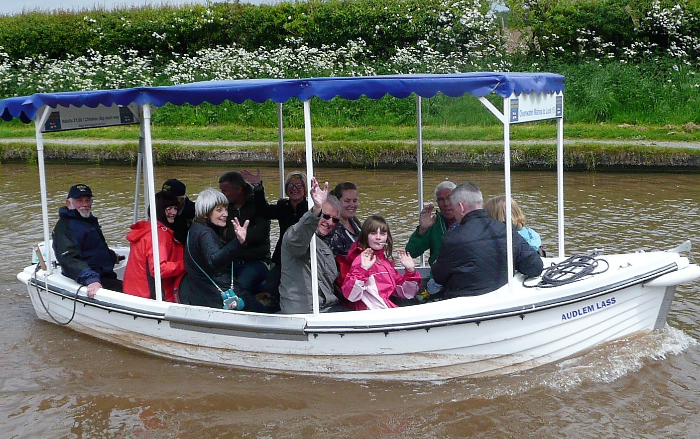 Volunteers running Audlem Lass boat service are celebrating national recognition.
The service, which runs between Audlem and Overwater Marina near Nantwich, has been named runner-up in the national Living Waterways Awards.
It was voted by judges as second in the Recreation and Tourism category of the awards, run by the Canal & River Trust.
The awards aim to recognise passion and dedication of volunteers who help create a destination experience on the canals, engaging communities and enriching peoples' lives.
And the Audlem Lass volunteers, who run and support the Audlem Lass Boat Service, based at Overwater Marina, creating the waterways link with the village of Audlem, have been celebrating their recognition at the event in Birmingham.
Audlem Lass spokesman Joe Hoyles said: "A party of eight of our volunteers attended the awards, some of whom have been involved with The Audlem Lass Boat Service since its inception in 2011.
"The evening was a great success and The Audlem Lass Boat Service was delighted to be announced as 'Runner Up' in their category, quite an achievement as there was some really serious competition."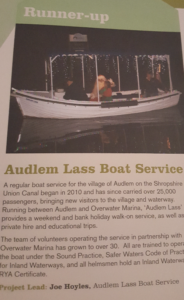 Richard Parry, chief executive of the Canal & River Trust, added: "The Canal & River Trust is once again proud to announce the winners of our national Living Waterways Awards.
"These annual awards give us the opportunity to celebrate the tireless efforts of those who are helping to transform the nation's rivers, canals, lochs, lakes, and reservoirs, making them exciting vibrant places where people want to be."
A rigorous assessment process saw expert judges travel across the country from Devon to Falkirk and from London to Leeds before selecting the finalists for the 2017 Living Waterways Awards.
For more details or to get involved in the service, visit www.audlemlass.co.uk which gives details of our sailing times, charter arrangements, and other useful facts.
Also visit Overwater Marina at www.overwatermarina.co.uk