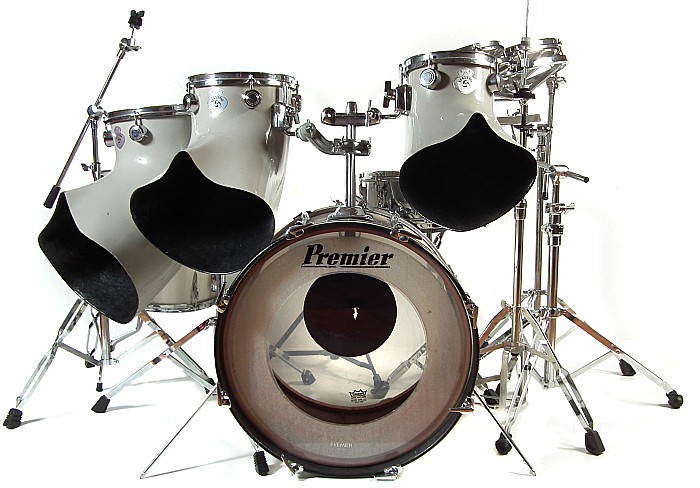 A drum kit owned by Simple Minds drummer Mike Ogletree during the band's heyday in the 1980s, is to be sold at a Nantwich auction.
The kit, which was used throughout 1982 during Simple Minds' tours and recording sessions, will go under the hammer at fine art auctioneers Peter Wilson.
It is a blend of two separate rigs – an industry standard Premier Elite Series combined with a Staccato Voyager 6 drum kit featuring the horn-shaped rack toms Ogletree was famous for.
It is expected to sell for £1,000-1,500 in a two-day sale of items on November 22-23.
The kit was seen on the 'Sons of Fascination' and the 'New Gold' tours and can be heard on songs 'Colours Fly' and 'Catherine Wheel', 'Somebody Up There Likes You' and 'New Gold Dream' from the album of the same name.
Ogletree joined the Scottish rock band when they were rehearsing in a large converted barn in Perthshire.
He wrote and played drum parts for the songs that were to become New Gold Dream (81–82–83–84), the fifth studio album said to have brought the group critical and commercial success.
Auctioneer Chris large said: "Ogletree is seen on Top of the Pops playing a full Staccato drum kit.
"However on live tours, he is seen behind the blended Premier/Staccato kit, but why and when this change occurred is not known.
"It is possible the onstage volume of the Staccato bass drum and floor tom was too much, while the blend of wood lower drums and fibreglass upper tones best suited the sound Ogletree required."
When Ogletree left Simple Minds and moved to New York he left the kit behind.
And from 1984/5, it lived in Simple Minds frontman John Kerr's studio.
It was then acquired by the Drum Vault, Edinburgh, where it was fully restored and sold to the present vendor, who is selling it with a Drum Vault certificate of authenticity.
Simple Minds is the most commercially successful Scottish band of the 1980s.
They achieved five UK number one albums during their career and have sold more than 70 million records worldwide.
The drum kit will be on view at Peter Wilson on Market Street, Nantwich, alongside more than 750 lots in the sale on Sunday November 19 (2-4pm), Monday November 20 (10am-5pm) and Tuesday November 21 (10am -4pm).