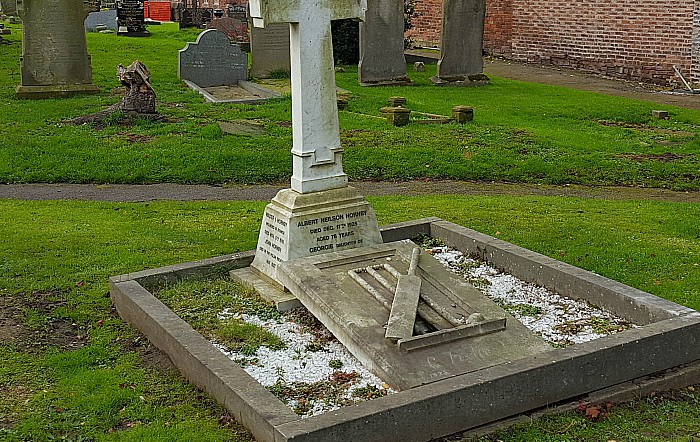 It's one of the greatest sporting contests on the globe.
And as England and Australia square up once more for another Ashes cricketing confrontation, few will realise the significance of a quiet corner in a Nantwich cemetery.
For here, in Acton churchyard (pictured), lies Albert Neilson Hornby – arguably one of the country's greatest ever sportsmen.
Here is a man that the history books – and a new publication being written by Nantwich historian Bill Pearson – will tell you was integral in creating the Ashes spectacle we know and love today.
AN Hornby, born in 1847 and who spent most of his life in Nantwich, excelled at most sports.
He played football for Blackburn, was a good boxer, and a keen runner.
But it was cricket and rugby that he really loved – despite only standing 5ft 3in high and weighing just six stone, which led to his nickname "Monkey" while at school in Harrow.
In fact, he was one of only two men who has ever captained his country at both sports.
Between 1870 and 1881 he was the only player for Lancashire to reach a century for the club, which he did seven times.
And in 1881 he topped the national averages, with his 1531 runs including three centuries.
That form saw Hornby called in to lead the England test team, and he made his debut against Australia in 1878-79.
Then, in his next Test in 1882, Hornby once again captained the team in a one-off game at The Oval in London.
They lost to Australia by seven runs. The Sporting Times printed an "obituary" to English cricket the following day, writing
"In Affectionate Remembrance of ENGLISH CRICKET, which died at the Oval on 29th AUGUST, 1882, Deeply lamented by a large circle of sorrowing friends and acquaintances R.I.P. N.B. – The body will be cremated and the ashes taken to Australia"
And so the Ashes was born – to be reignited every two years and starts again this week in Australia.
For Hornby, he only captained England one more time after that fateful 'Ashes' defeat, in 1882. The match was played at Old Trafford and was drawn.
It could have been a different path for AN Hornby, whose father William Henry Hornby (1805 – 1884) was very active in politics.
William became MP for Blackburn between 1857 and 1869, a post previously held by his brother John Hornby (1810-1892).
Two of AN Hornby's brothers Edward Kenworthy Hornby (1839-1887) and Harry Hornby (1841-1928) followed their father and also served as MP for Blackburn.
It was in 1856 when the Hornby family moved to Shrewbridge Hall, in Nantwich – a building which later became the Brine Baths Hotel.
AN Hornby later moved to Bridge House in Church Minshull, and then Parkfield House, off Wellington Road, where he had his own cricket ground.
His father William died at Poole Hall in 1884.
AN Hornby had four sons, Albert Henry, Walter Ingram, George Vernon and John Hornby.
Tragically, three of them died before their father.
Walter died of wounds received in France in World War I. He appears on the War Memorial in Nantwich.
His third son George died in South Africa, having served in the Boer War.
His youngest John was also wounded during the First World War and was awarded the Military Cross.
He died when exploring in the north of Canada with two companions, and there's a plaque commemorating this in St Mary's church in Nantwich.
AN Hornby died in Nantwich on December 17, 1925.
He's buried in the graveyard of St Mary's Church in Acton – sporting a rather distinctive cricketing grave stone.
Local historian Bill Pearson, a Nantwich Museum member, has been researching the Hornby family for a new booklet the museum hopes to publish soon.
"Many local people don't realise that this remarkable sportsman is buried just behind the bus stop in Acton," said Bill.
"I'm not a cricket fan, but I became fascinated by the family after reading different articles.
"How many can say their father, uncle and two brothers were all MPs?
"I believe Monkey was so good at sport because there were high expectations of him and he'd hate politics. His brother Harry is famous for being a MP for 24 years and never speaking in the house!"
AN Hornby will surely be cheering on from above as England lock horns tomorrow in the opening day of the 2017-18 Ashes series – some 130 years after he helped create this sporting rivalry.
(With special thanks to Bill Pearson and Nantwich Museum)