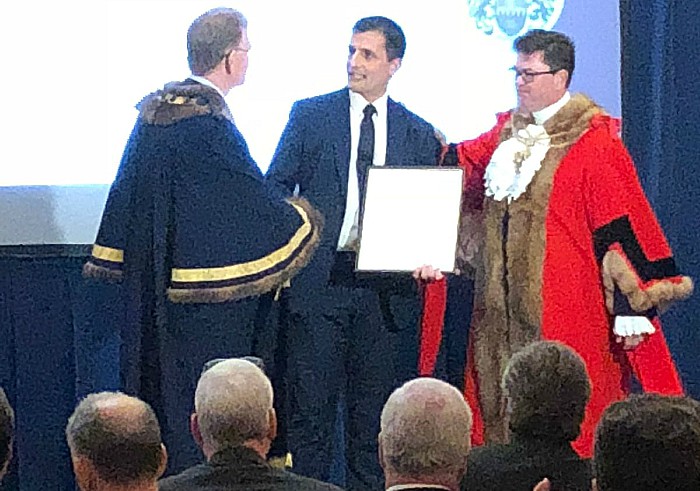 A former soldier and Nantwich dad has been commended with a national bravery award after tackling armed robbers in London.
Richard Whitehouse, 46, received the Sheriff's Award for Bravery Certificate of Commendation at a prestigious awards ceremony in London.
He was nominated by the Metropolitan Police after intervening during an armed robbery at a jewellers shop in the City of London.
Richard, a security consultant, was attacked with ammonia and threatened with an axe during the incident.
But he tackled a suspect to the ground and pinned them down until police arrived.
One suspect was arrested and charged with robbery.
For the same incident, Richard was also commended with a Gold Medal during the 2017 Police Public Bravery Awards.
The father-of-three, who lives in Nantwich and has daughters attending Tarporley High and Kelsall Primary School, said: "It's humbling to be recognised with these awards as I don't feel like I've done anything special.
"But I'm very grateful to have been able to intervene and make a difference."
The nationwide award tops a trio of acclaim for Mr Whitehouse.
In July 2014, he received the Chief Constable's Commendation from the Cheshire Constabulary following an incident in Kelsall where he chased a suspected arsonist.
This later led to a successful conviction.
In his spare time, Mr Whitehouse has also raised more than £2,500 for charity, through various endurance challenges such as completing seven marathons in seven days (pictured, below), twice in two years, to support army veterans.