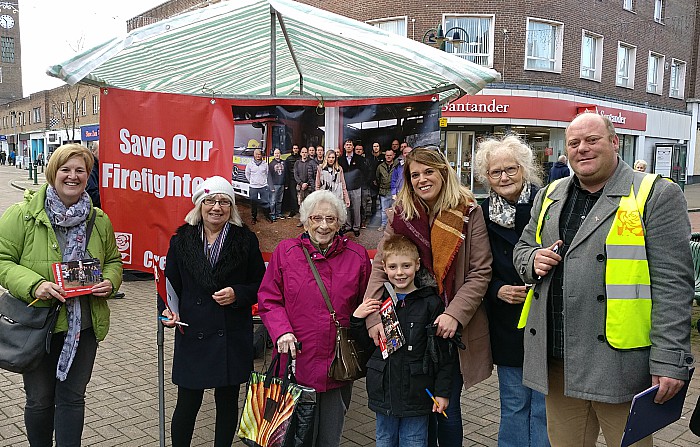 The campaign to stop proposals to downgrade Crewe Fire Station takes to the streets again this weekend, after thousands of people signed a petition.
Cheshire Fire Authority proposals could see only one fire engine for Crewe and Nantwich with 24/7 on call firefighters.
Other pumps would be manned by volunteers.
Fire service chiefs say there would be no impact on safety, that other stations operate a similar system, and that there has been a drop in the number of incidents.
Yet, figures show in 2015-16 Crewe fire station were called to 608 incidents in total – a rise from 548 incident in 2014-15.
Crewe & Nantwich Labour MP Laura Smith is spearheading a campaign to stop the plans.
A rally is due to be held this Saturday (December 9) in Crewe town centre.
Ms Smith said: "Worse still – if these plans go ahead, there will be only one fire engine staffed by full-time firefighters on a 24/7 basis for the whole of Cheshire East.
"Our firefighters warn us that this will mean longer response times to emergency incidents.
"Since these plans were drawn up in 2013 our population has grown, more houses have been built, multiple-occupancy houses has grown significantly, and more business units are open.
"How can we justify fewer firefighters?"
Sally Handley has campaigned in Nantwich to raise awareness of the proposals.
She said: "This is not even political. This affects me personally. They say it won't affect safety, but I just don't see how that can be the case.
"You have to live within five minutes of the fire station at Crewe to be trained as a retained/volunteer firefighter. We are really concerned about this."
Cheshire Fire Service Chief Fire Officer Paul Hancock has said there would be no change until 2020 if the proposals went through.
The number of incidents responded to has dropped significantly in recent years thanks to prevention methods and advice employed by the service.
He added that the service would not be proposing something if it was not safe for both firefighters and the general public.
Labour-run Cheshire Fire Authority first drafted the proposals in February 2013.
It formed part of a programme to make £6.7 million savings over four years.
In 2016, the CFA paused the programme for further review and is due to make a final decision in February 2018.
The protest rally will be held at 1.30pm outside Waterstones in Crewe this Saturday, December 9.
Ms Smith and other campaigners will be joined by Union representatives, local councillors and firefighters.