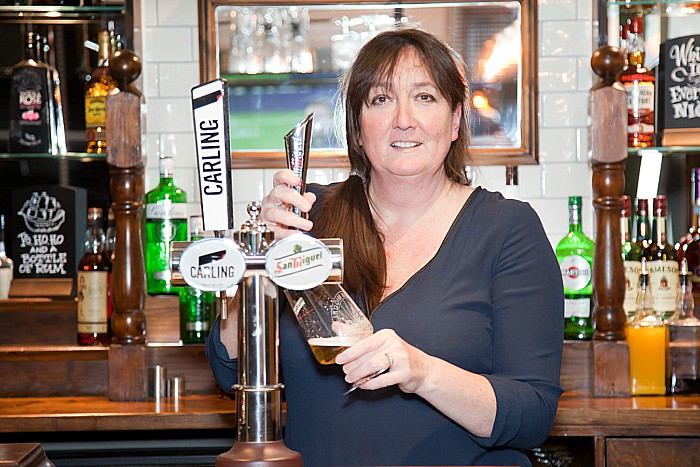 A woman is starting a new life behind the bar of a Nantwich pub – more than 10 years after she first viewed it!
Julie Hartley first thought about running The Lamb in Willaston in 2006.
But fears over the impending credit crunch and smoking ban meant she decided to play it safe and keep her job as a finance manager in Nottingham.
Now, 11 years on, she has decided to throw caution to the wind.
She has quit her job and come to Nantwich with her husband Richard to take over at the Lamb, which has re-opened following a £75,000 investment from pub company Punch.
Julie said: "Back in 2006, Richard took a new job in Nantwich and I was ready for a change so decided to have a look at The Lamb.
"I thought it was a great pub with lots of potential but the time just wasn't right.
"I carried on working in finance but one day I got an email telling me The Lamb was back on the market and so I decided to go for it.
"The Lamb now looks better than ever and I've received such a warm welcome from the locals, I'm delighted I took the plunge."
As part of the investment scheme, The Lamb has been refurbished including full internal redecoration and introduction of new furniture and seating areas.
Outside, the garden has been given a makeover with new planters.
A new menu featuring a range of freshly prepared traditional pub meals and specials with locally sourced ingredients is on offer, alongside a good selection of ales, wines and spirits.
Julie is happy for dog owners to bring their four-legged friends along to The Lamb and there is plenty of entertainment with quiz nights every Tuesday and big screen sporting action from Sky.
She is also keen to re-establish the pub's pool team after an absence of several years.
Dan Sullivan, Publican Development and Training Manager for Punch, said: "The Lamb is a great pub that has been waiting for someone with Julie's enthusiasm and vision to unlock its potential.
"We are proud to be supporting her in what I'm sure will be a hugely successful new venture."