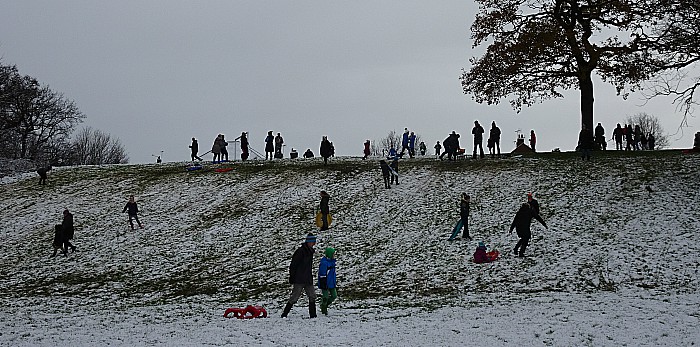 The winter  freeze has brought joy and frustration to families across Crewe and Nantwich.
Thousands enjoyed the weekend snow as young and old went sledging, built snowmen and enjoyed gorgeous Winter walks.
But in equal measure, the big freeze brought chaos and confusion today as many schools shut, while others stayed open, and some routes were clear while others were left like ice rinks.
Although Nantwich and Crewe town centres showed little sign of snow and ice today, many outlying rural areas were left in up to 30 cm of snow which froze overnight as temperatures dipped down to -7C.
This left many country routes impassable this morning.
Malbank and Shavington Academy high schools were closed by staff after site inspections, saying it was too dangerous.
Yet Brine Leas School on Audlem Road remained open after staff were brought in to grit outside buildings over the weekend.
Brine Leas headteacher Andrew Cliffe said: "I am grateful to the many staff who travelled a long way to get to school today.
"The forecast has given out lot temperatures tonight with black ice a possibility.
"We will grit again and I take a look in the morning to check whether the site is safe and we have sufficient staff."
Some primary schools remained open, including Pear Tree and Stapeley Broad Lane.
But others such as Acton and Calverley were closed.
South Cheshire College also had to close after heating failure caused by the freezing temperatures, but Reaseheath College remained open as normal.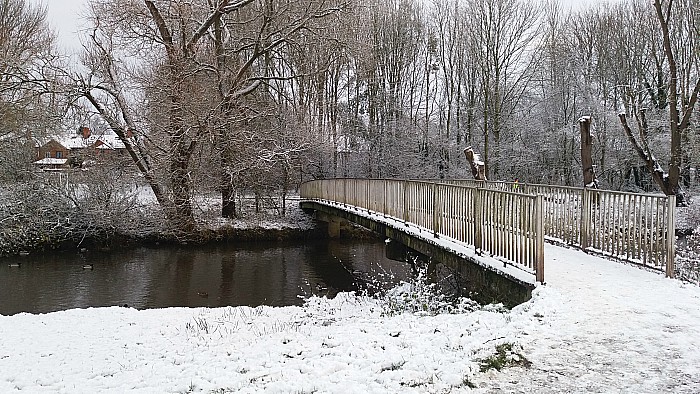 Forecasters are warning of another big freeze tonight into tomorrow, again temperatures plummeting to as low as -10C in rural areas of Cheshire.
Some have criticised Cheshire East Highways for not gritting minor routes used by school bus services.
A Cheshire East Council spokesperson said: "When icy road conditions are forecast, gritting is carried out on our gritting routes.
"These are Class A and B roads; routes leading to main hospitals, ambulance stations, police stations and fire stations; some strategic public transport routes; roads serving main shopping centres; roads leading to a majority of secondary schools (apart from those with access difficulties).
"Where schools are located on these routes, the roads will be gritted."
The authority said it has used 1,000 tonnes of salt to treat Cheshire East's roads over the weekend, as well as hand gritting in town centres.
A plough was used along the A534, near the Bickerton Poacher, after a small number of vehicles became stuck in the snow.
Cllr Rachel Bailey, leader of Cheshire East Council, said: "I'd like to thank staff for their hard work over the weekend in helping to tackle the effects of the heavy snow and freezing temperatures on our roads.
"While we've already used almost 1,000 tonnes of salt to treat the road network, we will be receiving fresh deliveries today and later this week and still have more than 4,000 tonnes in stock.
"Almost 750 miles of road are treated each time we grit but we cannot ensure that all roads will be clear of snow and ice.
"I therefore urge residents to take care in adverse driving conditions or when out walking.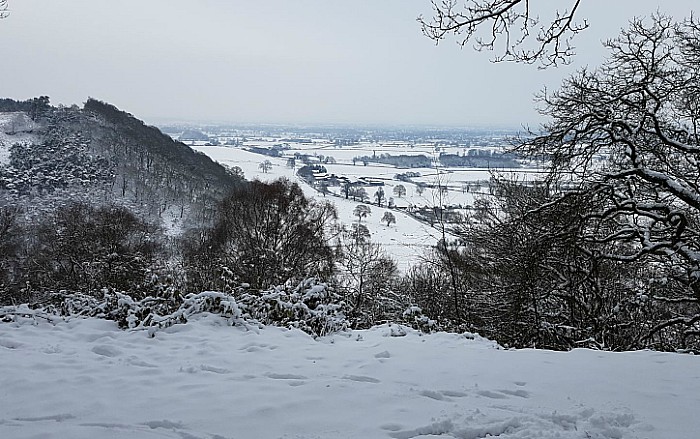 "I'd also like to remind motorists that when we treat the road network, the salts are not fully effective until they are 'activated' by vehicles.
"It was great to see so many families out enjoying the snow this weekend. However, it's important to remember that not everyone copes well in cold weather, so keep in touch.
"Elderly friends, family members and neighbours may need extra help and support and I'd urge residents to check in on them where possible. A quick phone call could make all the difference to them."
To keep up to date with gritting operations, or to view gritting routes, follow Cheshire East highways on Twitter at @CECHighways or visit www.cheshireeast.gov.uk/winter
The service can also be contacted on 0300 123 5020 for any enquiries or to report debris on roads and other hazards.
(Pictures courtesy of Jonathan White and Phil Dodd)