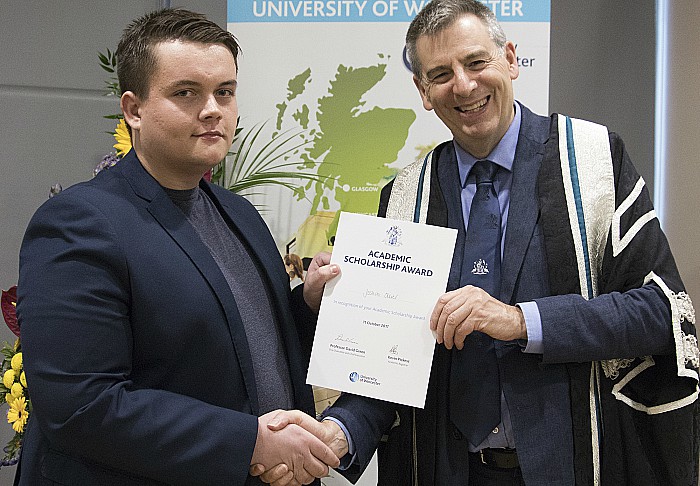 A student from Nantwich has earned a £1,000 scholarship for outstanding academic achievement in his university studies.
Joshua Ollier was presented with the scholarship by the University of Worcester's Vice Chancellor and Chief Executive, Professor David Green, at a special ceremony.
Joshua, aged 20, earned his award in recognition of outstanding achievement throughout the 2016/17 academic year.
"Achieving this award is a great honour, as I feel like it recognises my efforts during my previous year of study," said the third year Computing degree student.
"Achieving grades is one thing, but having your place of study acknowledge them is another."
The former Malbank School & Sixth Form College pupil added: "I chose the University of Worcester as it conveys a much more welcoming atmosphere than many of the other campuses I visited.
"The staff and the grounds are all so welcoming, and I couldn't ask for a better environment to study in."
Professor David Green, University of Worcester Vice Chancellor and Chief Executive, said: "We are very proud of each and every student who earned an Academic Scholarship this year.
"These academic scholarships at the University of Worcester are supported by generous philanthropists, including the University's distinguished Honorary Fellows, and many successful graduates of the university.
"We are very grateful to all our benefactors whose generosity means so much to our students.
"We find winning a scholarship further improves our students' already excellent job prospects on graduation as well as providing welcome practical financial support and encouragement."