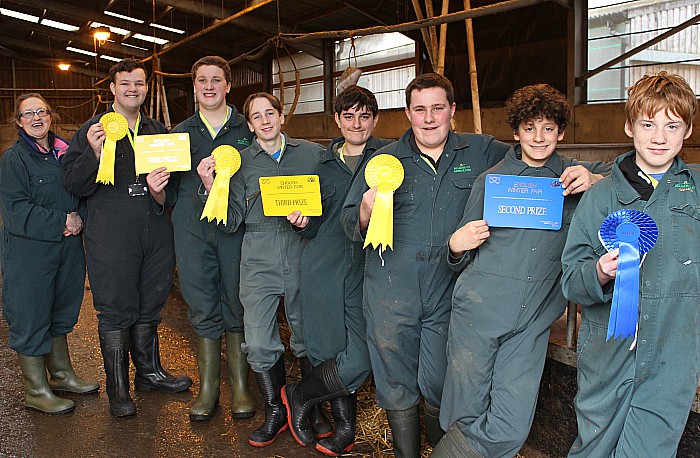 Nantwich pupils studying agriculture at Reaseheath College, selected pigs which went on to take top prizes at a premier livestock show.
Year 10 pupils, aged between 14 and 15, chose six Large White x Landrace pigs for entry into the Staffordshire and Birmingham Agricultural Society's Winter Fair.
It's one of the country's largest and most prestigious livestock events.
Using their new skills in livestock handling and care, the pupils weighed the pigs and studied the show criteria before making their selection.
The pigs, reared in the Nantwich college's commercial pig unit, were awarded one second and two third prizes in the native breed, gilt and boar classes against strong competition.
The pupils, who all hope to work in the farming industry, study at Reaseheath one day a week on a Key Stage 4 Vocational Opportunities Programme along with their GCSE studies at school.
As well as working with pigs, they take part in practical tasks with dairy cows and in the sheep unit.
They also learn tractor driving, study the college's cropping systems and the environmental impact of farming.
After two years, they earn Level 1 Diploma in Land-based Studies, which gives them a head start in their chosen career.
Course Manager Julie Baskerville said: "These pupils did an excellent job and chose pigs which really stood out in the crowd.
"As future farmers they need to be able to understand the market and judge which livestock will give them the best commercial return.
"Hopefully, they will go on to follow rewarding careers in the industry."
Sam Perch, one of the pupils from Brine Leas School, said: "I really enjoy coming to Reaseheath and working with the farm animals. I learn something new every week."
Pic: Julie Baskerville with Cameron Black (Bishop Heber High School); Robert Heathcote (home schooled); Tai Brookes (Bishop Heber); James Cork (Madeley High School); Sam Perch (Brine Leas); Chad Steadman (Westwood College, Leek) and Cameron Evans (The Discovery Academy, Stoke)