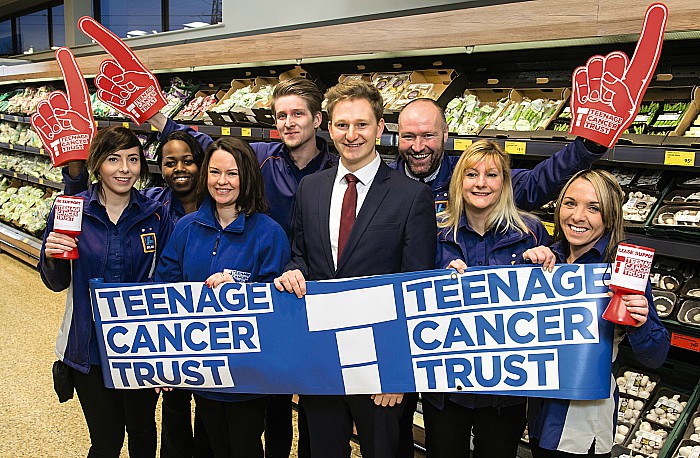 Big-hearted customers and staff at Aldi in Nantwich have raised almost £6,000 for the Teenage Cancer Trust.
It was raised after colleagues and customers completed activities including a fancy-dress day and a Snowdon trek.
Similar events were held at Aldi stores and regional distribution centres across the UK and together helped to raise £1.2 million nationally for the charity.
Aldi's partnership with the Teenage Cancer Trust began in January 2017.
It aims to raise £5 million over five years to support the charity's work with young people across the country.
The amount raised nationally so far has exceeded the first-year target and local stores including Nantwich, Crewe and Winsford have further fundraising events planned for 2018.
Rebecca Mason, area manager at Aldi UK, said: "Our colleagues and customers have gone to great lengths to raise funds for this fantastic cause.
"The Teenage Cancer Trust makes a huge difference to people's lives in our local area and we have been overwhelmed by the support and generosity our employees and customers have shown.
"We're looking forward to raising even more in the months and years to come."
Kate Collins, interim chief executive officer at Teenage Cancer Trust, said: "We are hugely grateful for the support Aldi has shown us so far, and to the customers and staff who have come together to raise this sum.
"This money will be used to ensure young people with cancer have the best treatment, care and support – and ultimately ensure that no young person faces cancer alone."
Teenage Cancer Trust delivers world-class cancer care and support to young people diagnosed with cancer aged 13 to 24.
It works in partnership with the NHS to provide highly-trained expert staff and specialist cancer units in NHS hospitals across the UK.
The charity is there at every stage from diagnosis, through treatment and after treatment.
It also brings young people with cancer together so they can support each other.