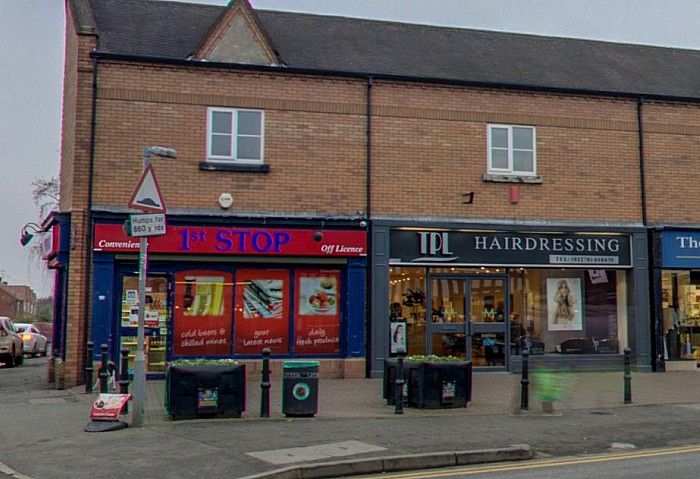 A gang of youths, some as young as 14, launched a horrific attack on a young man in Nantwich after he had asked them to stop throwing stones.
The 20-strong gang turned on their 23-year-old victim outside 1st Stop in Beam Street, knocking him to the ground and kicking and punching him.
The man, who we have agreed not to identify, suffered a suspected fractured cheek, black eyes and horrific bruising in the incident which happened last night (January 26) at about 7pm.
Staff from nearby shop TPL Hairdressing, a passing paramedic and other witnesses ran to the victim's aid and chased the gang away.
Cheshire Police are now monitoring CCTV images in a bid to trace the thugs.
Today, the victim's mum told Nantwich News the full horror of the attack to warn others.
She said: "My son was just going to One Stop shop when he saw these lads throwing stones at a Dominos delivery driver. He just asked them to stop.
"But they turned on him. One punched him in the cheek, others pushed him to the ground and began kicking and punching him.
"My son just said he couldn't hit them back because they were children! It's absolutely horrific.
"The ladies in TPL said there was about 20 of them, and some they recognised as being school children aged 15 and even younger.
"It was absolutely horrific, all he could do was try to protect himself."
Community responder Gavin Palin, who was passing, pulled in and chased the youths away but they escaped.
"I want to say a huge thank you to the paramedic who stopped to chase the boys away and attend to my son. I know he chased them all over Nantwich to try and catch some of them.
"And thanks to the staff at TPL who came out and tried to get the boys off.
"And to two unknown women who also came to my son's aid. Thank you from the bottom of my heart for your help. Things could have been much worse if you hadn't intervened.
"But the people who did this need to be brought to account and this type of gang mentality needs to be stopped before it escalates, this is not Nantwich."
Gavin Palin told Nantwich News: "I was driving down Beam Street, I could not believe what I was seeing, a group of thugs were kicking and jumping on this young man.
"I pulled up in my ambulance car and got out and as I got out and ran towards them, they all ran off in the direction of Pepper Street post office.
"I quickly checked the young man was well enough to leave and I gave chase on foot through the town for quite some considerable way where I eventually lost them.
"This is not something we see in Nantwich regularly and it is very disappointing when we do witness such a cowardly act.
"I have given the full route where I ran to the family for them to pursue the options of CCTV around the town. Let's hope they do catch them."
It's believed some of the attackers are pupils at Brine Leas or Malbank, or both.
"The people I have spoken with recognised some of these youths, and know they are secondary school pupils in Nantwich," the victim's mother added.
"The police came out and they have some CCTV images. If we find out who it is we will press charges."
We have contacted Cheshire Police for an update and are awaiting a reply.
(Pic courtesy of Google Street Maps)