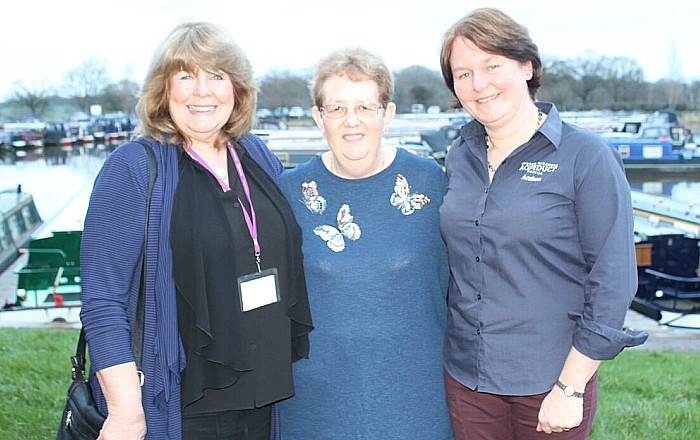 A moorer's moving family story has prompted Aqueduct Marina in Church Minshull to choose Kidney Research UK as its 2018 charity.
The charity was put forward by Audrey Foulkes, one of Aqueduct Marina's long-term moorers.
Her auntie was one of the first donors to take part in a living kidney transplant in Liverpool in 1973.
Kidney Research UK is the leading kidney research charity, working towards lives free from kidney disease.
Audrey's mother Pearl was rushed to hospital after her kidneys began to fail.
She was given a bi-fed kidney, replacing the use of both kidneys, whilst keeping them intact.
The transplant from Mabel gave her more than 13 extra years of life.
Marina director Andrea Parton said: "We have always been proactive, supporting our moorers and hearing about the connection between Audrey's auntie and the breakthrough for kidney research we were keen to get involved.
"We look forward to the year ahead of fundraising with Kidney Research UK, starting our first lot of fundraising at the Christmas Fair last year where we raised a whopping £250!"
Hannah Wysocki, Community Fundraising Manager, said: "We are delighted to hear that Church Minshull Aqueduct Marina has chosen to support us this year.
"Audrey's story of her mother's transplant all those years ago goes to show not only how transplants save people's lives but how much treatment processes have developed in the last 40 years.
"Research really does save lives!"
Kidney Research UK is dedicated to funding the research needed to unlock answers to kidney disease and aims to improve the quality of life for patients today.
The charity has invested more than £70 million in renal research since 1985, including £5.5 million in the North West.
(Pic: Left to Right – Jeanette Wild, Kidney Research UK; Audrey Foulkes, Aqueduct Marina moorer; Andrea Parton, Aqueduct Marina director)