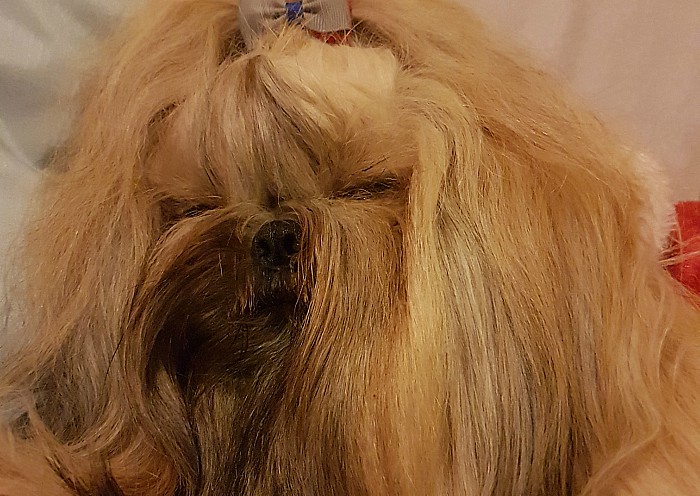 Grooming is a treat for any dog – but for Nantwich animal lover Ashleigh Rose it is a coping mechanism.
The 17-year-old, from Oakes Corner, Hatherton, grooms her Shih Tzu Gladys to calm her down when she's upset.
And the bond is so strong, the golden mutt has even helped Ashleigh in her fight against depression which left her in hospital last year.
The toy dog breed is famously friendly, and it's this temperament which has made Gladys so valuable in helping Ashleigh's battle.
"She visited me in hospital last year and helped me through that," said Ashleigh.
"I just saw it as a way out.
"She cheered me up and helped me get through what was happening."
The family nominated Gladys for the Man's Best Friend category of the Friends for Life awards at Crufts this year, to reward her dog of two years for helping with her mental health struggles.
"She's always there for me when I'm upset," said Ashleigh, who is studying animal management at college.
"She'll come to cuddle me and wipe away my tears with her fur."
Friends for Life is a celebration of just how much dogs change and improve people's lives.
Five of the finalists will go to the 127th edition of Crufts – where every dog has its day – held at the NEC in Birmingham where the winner will be announced on Sunday March 11.
Gladys was originally bought as a present for Ashleigh's mum.
But the bond between Ashleigh and the golden dog was too strong to ignore, so Ashleigh adopted her as her own.
"She was being harassed by one of the breeder's children, and I was jealous of the child!" added Ashleigh.
"As soon as he let Gladys go, I picked her up and couldn't let go again.
"Ever since she's been my dog, and she is very obedient towards me."
Gladys was the Rose family's second Shih Tzu, joining Albert, the family dog.
"We wanted old people's names to match, and Gladys just fit!"
Gladys sometimes visits Ashleigh at college.
And, in her free time, Ashleigh enjoys taking her on walks.
"She likes to have quite a lot of grooming sessions," Ashleigh added.
"She does like to go for really muddy walks that require even more grooming afterwards!"
Ashleigh now hopes the loyalty of her beloved dog will be recognised at Crufts next month.
"I thought it would be nice to enter Gladys this year, because she really is my best friend," she said.
"It would mean everything because she is just so special to me. She's the perfect dog."
People can vote for the dog they want to win by visiting the Crufts website, with the winner receiving £5,000 from the Kennel Club Charitable Trust to donate to a dog charity of their choice and runners-up £1,000.