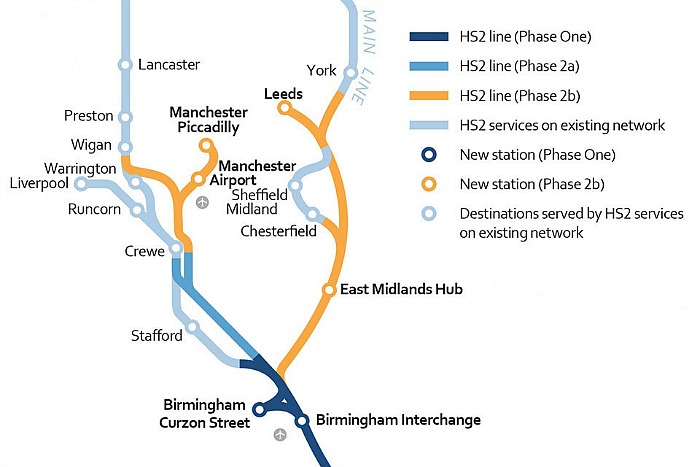 A new HS2 hub station in Crewe will provide seven high-speed trains per hour, the Government has announced.
The Department for Transport has published its results of the consultation 'Crewe Hub: options for building on existing connectivity' held in 2017.
It sought views on alternative scenarios for a Crewe hub that would enable additional HS2 connectivity at Crewe and bring other locations in the north on to the HS2 network, including Macclesfield – rather than existing proposals (in the Phase 2a Hybrid Bill) allowing only for two HS2 trains per hour at Crewe linking only to London.
And responses show there is support for an alternative solution at Crewe with enhanced HS2 connectivity, a new northern junction allowing HS2 trains to return to the HS2 network north of Crewe, and direct high-speed services between Crewe and Manchester and Birmingham.
This means a new hub station capable of handling up to seven HS2 trains per hour each way, and a new northern junction, allowing Crewe and the region to benefit from direct HS2 services to London, Manchester and Birmingham from Crewe.
In total, 114 consultation respondents were in favour of more HS2 services at Crewe and nine against.
And 109 were in favour of a new northern junction with 16 against.
As a result, the Department for Transport has made the following changes to the phase 2a scheme from Birmingham to Crewe:
● 400m platforms, extending Platform 5, to allow for splitting and joining of HS2 services, opening opportunities for services from London to Stafford, Stoke-on-Trent and Macclesfield
● A more efficient design for the station to improve passenger experience
● A change to the design of the rail layout to improve operational performance of trains and reduce the impact on freight services
Frank Jordan, executive director for place at Cheshire East Council, said: "This is very welcome and yet more positive news which highlights the wider connectivity and economic benefits of having an enhanced Crewe hub for HS2.
"The arrival of HS2 at Crewe by 2027 provides a once-in-a-lifetime opportunity to deliver nationally significant transformational economic growth and regeneration – not only to Crewe but also to the whole of the sub-region.
"An enhanced Crewe hub station would be the catalyst to deliver this growth, jobs and investment opportunities for Crewe and our partner councils and LEPs in the Constellation Partnership as well as the wider Midlands and North Wales regions.
"The provision of 400m platforms at Crewe will provide the capacity at Crewe to allow for HS2 classic compatible services from London to serve Stoke-on-Trent, Stafford and Macclesfield."
The council aims to work with the West Coast Partnership franchisee to look at the opportunities for Macclesfield to be served by HS2 from 2027, as well as options for this service to extend north to Manchester.
Mr Jordan added: "These modifications would not preclude Crewe's ability to handle five to seven HS2 trains per hour if a new northern junction were delivered and would also allow for growth on the regional links to Crewe, such that they could each accommodate three to four regional services per hour.
"The council is pleased to read of government's support for the council's vision for the Crewe hub and regeneration around it, as well as its partnership work and the vision for the Constellation Partnership set out in the Crewe HS2 Masterplan Vision and the Constellation Partnership's Growth Strategy."
"However, there is still more to do to realise the vision for the Crewe hub.
"The council and our partners will continue to work with Network Rail and government to look at possible options to deliver a Crewe hub that would support these ambitious plans, not just for Crewe but for the wider region and beyond.
"The council and our partners will continue to make the case to government for the delivery of an enhanced Crewe hub by 2027, capable of serving up to seven HS2 trains per hour and for a new northern junction to be included as part of the phase 2b scheme."