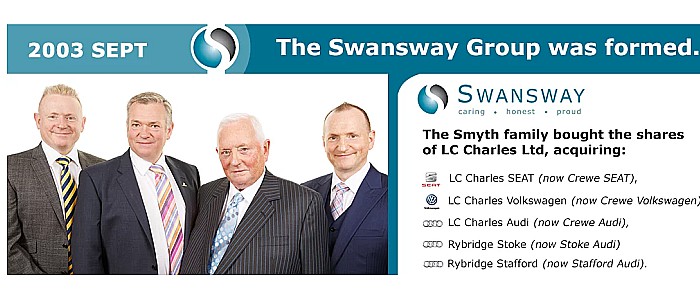 Family run Swansway Motor Group in South Cheshire has been commended in the national Motability awards for its website.
The company, which operates Audi, SEAT and Volkswagen dealerships in Crewe, was recognised in the Website of the Year category at the annual Motability Scheme Dealer Awards.
The scheme helps disabled people back behind the wheel with higher rate disability benefits and the enhanced mobility component of PIP.
The Dealer Awards programme rewards best practice by dealers and ensures customers receive exemplary customer service across the nationwide network.
The awards are judged on how a dealer delivers the scheme to customers, and is assessed by customer feedback and reviews of their Motability Scheme performance.
Swansway Motability Specialist Elliot Harrington said: "It's so important to make our Motability customers feel comfortable and at ease in our dealerships, which can sometimes feel a little intimidating.
"We focus on finding out exactly what their needs are and how we can help them get the freedom that having your own transportation brings.
"Our website is very often the first contact customers have with our business, so it's especially good to know that we're offering a great service to our potential customers here too."
Peter Wilson, general manager of Dealer Relations at Motability Operations Ltd, added: "We are really impressed with the achievements of Swansway Motor Group.
"The annual awards allow us to thank dealers for providing consistently positive customer service, highlighting those who are doing it well and encouraging others to do the same.
"It is testament to the high standards and expert knowledge of Swansway Motor Group that they've been recognised – congratulations to them for their well-deserved Motability Scheme Dealer Award."
(Pic courtesy of Swansway Group)