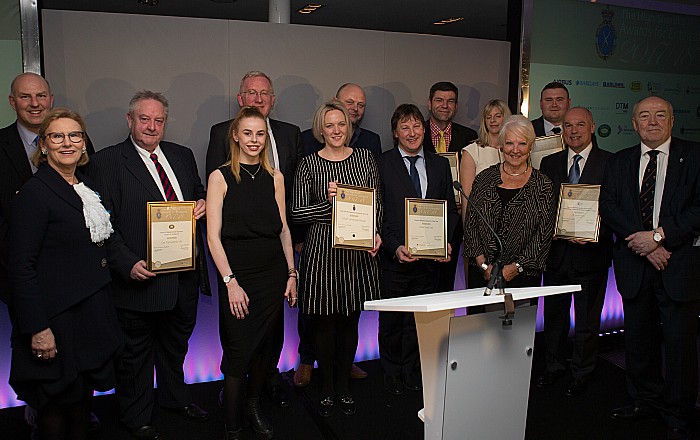 Two Nantwich businesses have shared a top honour at the annual High Sheriff of Cheshire Enterprise Awards.
Car Transplants UK, at Wardle, and Overwater Marina near Nantwich, shared the £3,000 in prize money after being named joint winners of the Roberts Bakery Family Award of Excellence Award.
Judges were looking for leaders of outstanding entrepreneurial families and the achievements of specific family businesses in Cheshire, Warrington and Halton.
John A Schofield, managing director of Car Transplants, a vehicle salvage management company based on the A51, said: "I am immensely proud of what Car Transplants has achieved over the last 43 years.
"Receiving such a prestigious award is an accolade to the dedication and hard work of both my family and workforce."
Janet Maughan, owner of Overwater Marina, said: "We are delighted to be a winner in the Roberts Bakery Family Business Award of Excellence.
"Taking part in such a prestigious awards is always an excellent opportunity to take a good look at what you do as a business.
"And then to win an award is the absolute icing on the cake, not just for us as a family, but for every member of our team who work so hard to make the marina a very special place to work and visit."
Tarporley-based online butchers Chestnut Meats won the new Micro Enterprise Award category and will receive £2,000.
Marnie Dobson, managing director, said: "We are over the moon to receive this prestigious award.
"We would like to thank our customers for their support, staff for all their hard work and suppliers for their wonderful products.
"Chestnut Meats is proud to be named Micro Enterprise Winner 2017-18 and looks forward to growing the business and our team further in the year ahead."
Hosted by the High Sheriff of Cheshire, Sarah Callander Beckett, and the Vice-Chancellor of the University of Chester, Professor Tim Wheeler, the awards were held at Chester Racecourse.
Urban Landscape Design scooped the overall prize High Sheriff's Award for Enterprise 2017/18.
The Mornflake Oats Award for Innovation was won by Daresbury-based company, Perfectus Biomed Ltd.
The High Sheriff's Award for Responsible Business Practice was won by The Land Trust, who are based in Warrington.
The Cheshire Business Exporter of the Year went to Frodsham-based company Heat Trace Ltd.
Professor Phil Harris, chairman of the organising committee of the awards, said: "The High Sheriff of Cheshire Enterprise Awards are now in their 12th year and celebrate the wonderful businesses in the Cheshire/Warrington/Halton Economy."
Sarah Callander Beckett, the High Sheriff of Cheshire, added: "One of the highlights of my year as High Sheriff has been promoting the wonderful businesses across the county and in particular introducing the new Micro Business award.
"Celebrating the wealth of opportunity and variety of enterprises from the more rural south to the enterprise and science corridors of the north of the county is so important."