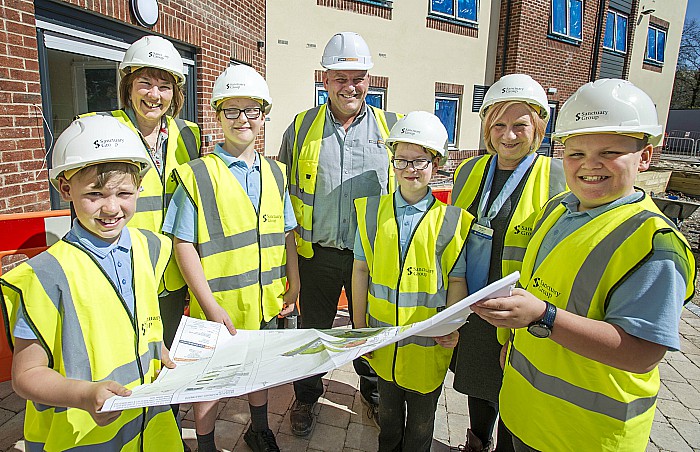 Children from a primary school in Nantwich donned their hard hats to visit a care home building site – where they are planning to bury a time capsule!
Pupils from St Anne's Catholic Primary School visited the site of Barony Lodge Residential Care Home in Barony Road to get inspiration for artwork to place in the time capsule outside the home, which will be run by Sanctuary Care.
And they will return to the site before the home opens in the summer to bury the capsule, complete with art depicting what they imagine life to look like in 60 years' time and tell people about life today.
The pupils – Isaac Baxter, Oliver Jones, Matthew Povey and Jan Obolewicz – were asked about what they thought the future would bring.
Isaac said there would be "better technology and more electric cars" while Matthew added: "I think there will be fewer wars and schools will be bigger."
St Anne's headteacher Hazel Brown, who joined them for the visit, said: "One of our focuses is to think about emotional well-being of both our children and team so supporting this project is important to us to help the children to understand dementia.
"All of the children here are very keen artists, so we will look to begin our artwork after their SATS exams ready for when we visit the home again."
The children also had the opportunity to meet Jackie Walker, who will be the home's manager when it opens.
She said: "I am so pleased the students have taken such an interest in our home and we cannot wait to see the artwork they produce.
"When Barony Lodge opens it will be extra special for Sanctuary Care, because it will be during what is our 20 year anniversary of delivering care to our residents – a double celebration indeed."
Barony Lodge will offer residential and residential dementia care and will feature 60 en-suite bedrooms, lounges, dining areas, an on-site café, hairdressing and beauty salon and a themed cinema room.
Outside there will be large landscaped gardens with raised flower beds.
Care enquiries can be made by calling 01270 447395 or emailing [email protected]