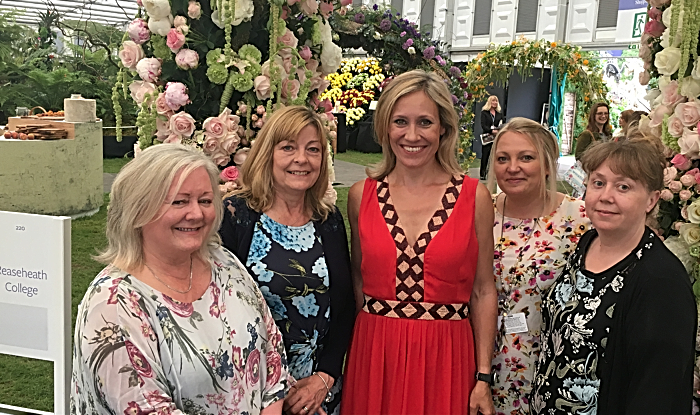 Floristry students from Reaseheath College in Nantwich proved they are among the nation's best by winning bronze in the finals of the RHS Chelsea Future Florists with a display inspired by the Royal wedding.
The students, competing at the prestigious RHS Chelsea Flower Show, were challenged to create a floral arch for a Spring wedding just days after the wedding of Prince Harry and Meghan Markle.
RHS Chelsea Future Florists is a national contest open to all colleges and training institutions.
The show itself is considered to be the best in the world and is attended by HM The Queen, other members of the royal family and many celebrities.
Reaseheath's team included Karen Cope, Marion Downes, Sue Kinsey and Clare Brindle, who are studying for their Level 4 Higher Diploma in Floristry at University Centre Reaseheath.
They chose traditional scented flowers favoured by the Royal Family, such as roses and peonies in a pink, white, cream and green colour scheme.
Their arch was in the shape of the historic Gilebertus door in St George's Chapel, Windsor Castle, where the royal wedding took place.
Karen said: "This was a once in a lifetime opportunity to show off the skills we have learned.
"It was absolutely amazing to return home with a Chelsea medal, and to have experienced the thrills of competing at such a high level."
Course manager and team trainer Fiona Davies said: "The students worked really hard to plan and construct a world-class exhibit for this prestigious show and we are delighted at the result.
"I'd like to thank the sponsors, whose support has enabled our students to produce a luxurious creation worthy of the royal wedding!"
The competition is run by the RHS in partnership with the British Florist Association and turns the spotlight onto rising talent within the industry.
This is the fourth consecutive year that Reaseheath florists have qualified for the final.
Denise Bossons, regional manager of one of the sponsors Wyevale Garden Centres, said: "It has been a privilege to support Reaseheath's florists with their spring wedding arch.
"Being part of a competition at RHS Chelsea has allowed us to showcase our beautiful products on a world stage.
"This has been a mutually beneficial partnership and we hope it will continue for many more projects in the future."
Former Reaseheath floristry student Robyn Longden, who now works for Ian Lloyd Floral Designs, was a silver medallist in the RHS Chelsea 'Young Florist of the Year' competition with a floral throne.