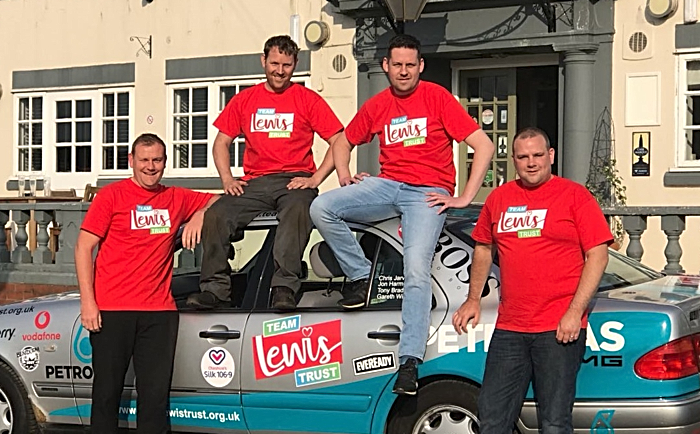 Staff at Construction Linx are taking on the car rally event Benidorm Or Bust to raise funds in memory of brave young leukaemia victim Lewis Crossley.
Team Lewis Trust was set up after seven-year-old Lewis, a pupil at Wybunbury Delves Primary, died in November.
He was diagnosed with T-Cell Acute Lymphoblastic Leukaemia (T-ALL) in October 2015 and battled bravely until his death.
Team Lewis Trust was set up to fund research into new treatments for T-ALL and ultimately to raise the cure rates for this type of leukaemia.
The Benidorm Or Bust event is a 1,400-mile driving challenge to Benidorm across four days, between June 13-16, and participants can race in a banger, classic or everyday car.
Gareth Williams, managing director of Construction Linx, has organised the team taking part in this year's race along with friends Jon Harmes, Tony Bradley and Chris Jarvis.
Naming their race team Team Lewis, they are hoping to raise £1,400 – the number of miles from Crewe to Benidorm!
Gareth said: "Lewis was such a courageous little boy, battling leukaemia at such a young age and tragically losing that battle when he was just 7.
"It is an honour to drive our car in his name and to raise funds in his memory.
"He inspired so many well-wishers and Team Lewis Trust has been created to make a difference in his memory.
"Our team will naturally be called Team Lewis when we drive in the Benidorm Or Bust race in June.
"And we want to raise as much money as we possibly can for this amazing charity, to ensure some good comes from the tragic loss of Lewis and that more money can be spent on researching new treatments for T-Cell Acute Lymphoblastic Leukaemia."
Team Lewis is racing in a Mercedes Benz and they are hoping to attract interest from Lewis Hamilton and the Formula 1 Mercedes team.
"We're doing all we can to raise funds for Team Lewis Trust and my team and I will be appearing with our Mercedes race car in various locations around Crewe before June 13.
"So be sure to look out for us in your local area or to visit Crewe on the days we'll be out fundraising."
"We're taking part to ensure Lewis  is remembered and a difference can be made in his memory.
"All money raised will go towards funding research into this terrible disease in the hope we can improve cure rates and discover better treatments for individuals."
To support Team Lewis, donate through the Team Lewis Trust Benidorm or Bust Just Giving Page or to TEXT a donation of £5 text TEAM27£5.00 to 70070.
To find out more about Lewis and the Team Lewis Trust or about the Benidorm Or Bust challenge, visit www.TeamLewisTrust.org.uk and www.BenidormOrBust.co.uk