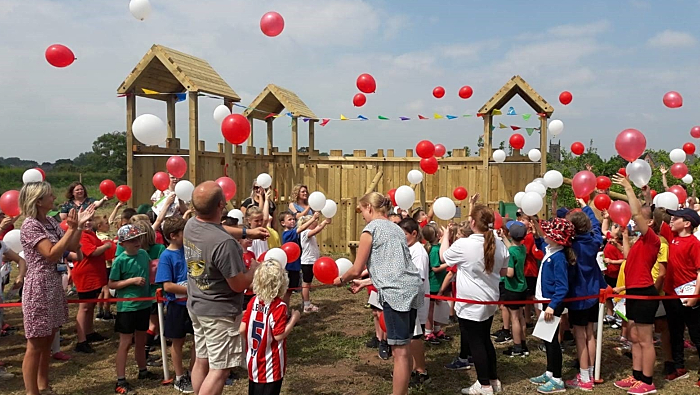 Pupils and staff at Wybunbury Delves have celebrated the opening of 'Fort Lewis' – play equipment built in memory of tragic Lewis Crossley who died of leukaemia.
And the opening on June 4 took place on what would have been Lewis' 8th birthday.
Youngsters, teachers and parents helped fundraise in the his memory to buy the piece of equipment. Some funds remaining will now be donated to the Team Lewis Trust.
On the opening, the school community held a sponsored 8km relay in teams of eight children.
Children of all ages, parents, grandparents and staff took part.
Wybunbury Delves headteacher Kathryn Chesters said: "Our afternoon ended with us all gathering around Fort Lewis, singing happy birthday to Lewis and releasing red and white balloons as Lewis was an avid Stoke City fan.
"His parents, Adam and Suzanne, cut the ribbon to open Fort Lewis and his sister, Emily, had the first go!
"Lewis loved adventure and tree-houses. His friends in Year 3 felt a fort would be a perfect tribute for him, 'When we are playing outside, it's when we most remember him and it's like he'll be there with us'.
"The generosity of local businesses, groups and friends of our school in supporting our memorial fundraising project has been overwhelming.
"The fundraising, spearheaded by parents, unites the whole community with Lewis in our hearts and minds.
"Fort Lewis is a lasting tribute to Lewis, it is something which will be treasured by Wybunbury Delves children for many years to come and we are sure he would have approved of Year 3's choice.
"A huge thank you to everyone who has supported us."
Lewis, from Hough near Shavington, bravely battled T-Cell Acute Lymphoblastic Leukaemia (T-ALL) for two years after his diagnosis in October 2015.
He died in November 2017.
Team Lewis Trust was set up to fund research into new treatments for T-ALL and ultimately to raise the cure rates for this type of leukaemia.