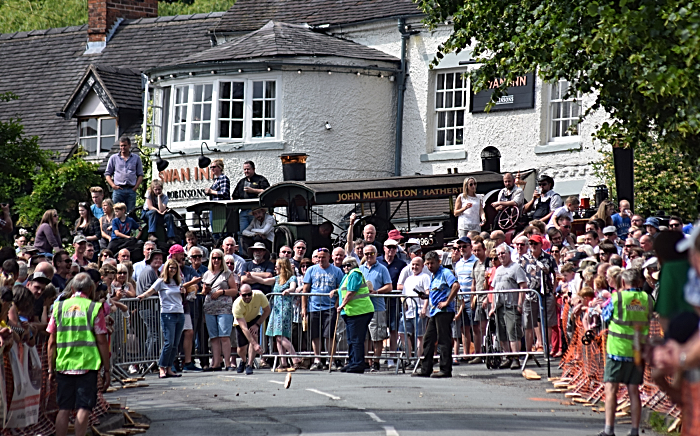 Thousands of people gathered to enjoy the annual Wybunbury Fig Pie Wakes event in glorious sunshine, writes Jonathan White.
The event started at midday with a peal of bells at Wybunbury Tower.
Nantwich-based online community station RedShift Radio set up and staffed the PA system with fig pie race commentary from RedShift Radio presenter Kelly-Ann Davies, ably assisted by youth presenter Lauren Davies.
BBC Radio Stoke also reported live from Wybunbury.
The fig pies are made from a traditional recipe containing a hard pastry and were rolled from the Swan Inn pub down Main Road to see how far they would travel.
There were separate race age categories for Under 10s, Under 16s and adults.
The honour of rolling the first fig pie this year went to Wybunbury Ward Councillor Janet Clowes.
And 2013 winner Dr Peter Wenzl, from Germany, made a special return visit to Wybunbury to take part in the event.
The Under 10s race was won by Leah Foster, aged 8, from Lancashire.
Her pie was made by Wybunbury resident and family friend Viccy Moores.
Leah followed the path to success prepared by her brother – Henry Foster – who won the same age category in 2016.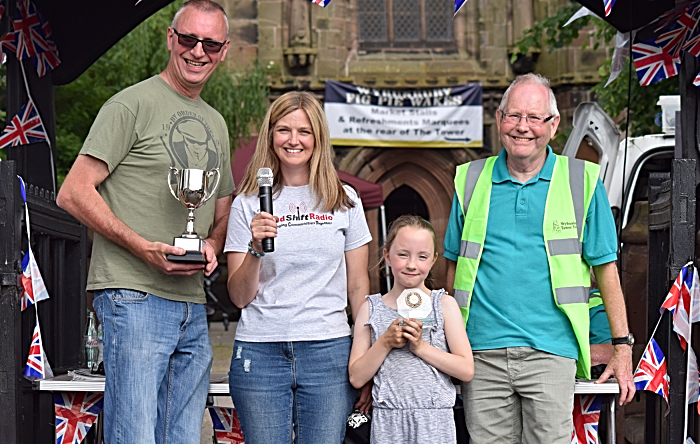 Leah said: "I was glad that I won. I would like to thank everyone else for taking part.
"Thank you to Auntie Viccy for making my pie."
The adult race was won by Simon Barnes with an impressive 106 metres – his pie was made by his brother Steven Barnes.
Wybunbury Tower was open to the public, and there was a grand raffle, various stalls, and refreshments.
There were steam traction engines on display.
The Salt City Jazz Men and The Funky Choir performed to an appreciative audience.
Former Reaseheath College student Paul Edwards gave chainsaw sculpturing demonstrations throughout the day.
The Red Lion pub had live music and a classic car display and the Swan Inn hosted a display from the Crewe & District Military Vehicle Club.
The main sponsor was Martin K. Davies Osteopaths.
The Fig Pie Wakes is organised by the Wybunbury Tower Preservation Trust.
It dates back at least 200 years though stopped in 1920.
The event was reprised in 1995, when the Wybunbury Tower Preservation Trust revived it to raise money for the upkeep of their historic leaning tower in the village.
(pics courtesy of Jonathan White)