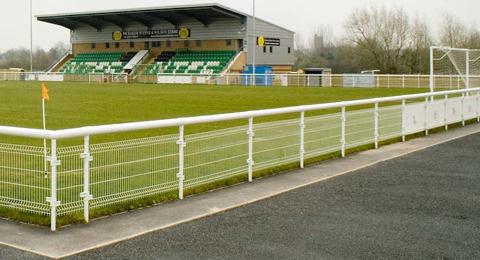 Burglars have broken in to Nantwich Town's Weaver Stadium and stolen equipment worth thousands of pounds.
The break-in happened in the groundsman's store overnight, the club said.
Offenders took a ride on John Deere mower and a Haytor mower plus other pieces of kit.
Both pieces of equipment stolen were less than two years old.
The Haytor mower was bought for the club by Nantwich Town supporters.
It is the second break in in two years where the club has been targeted.
Chairman Tony Davison said: "This is devastating news for the club.
"The equipment stolen was nearly brand new.
"Some of it had been donated by supporters which makes the theft even more upsetting.
"Running a club at this level is difficult enough at any time but events like this can put the whole future of the club at risk.
"We will have to launch an emergency fund raising initiative to replace the equipment and make sure we can look after the pitch to make sure it is ready for next season."