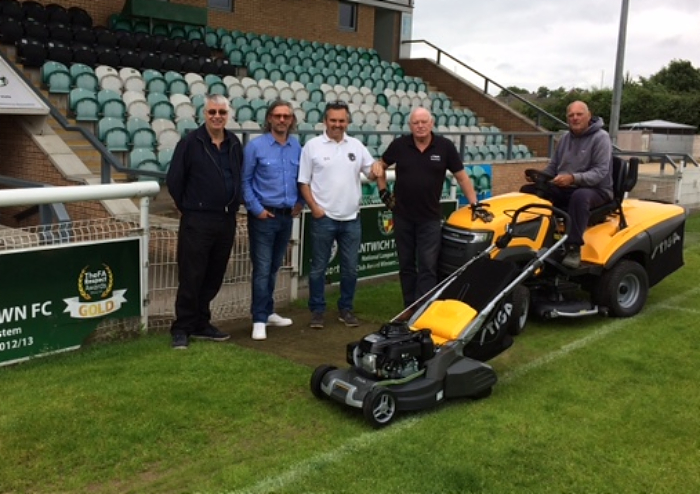 Nantwich firm Total Tools has stepped forward to help out Nantwich Town after burglars swiped thousands of pounds worth of equipment in a burglary.
And the gesture comes as the club launches its "Secure Your Club" campaign to raise funds to improve security around the ground.
Total Tools, based on London Road, has come forward to help the club recover from the incident by lending replacement equipment similar to that stolen, including STIGA Mowers.
The Weaver Stadium club has taken delivery of the equipment at short notice which allows the club to continue its pitch maintenance programme before the new season.
Nantwich Town chairman Tony Davison said: "It has been a difficult week for the club, following the break in.
"So I was delighted to receive the call from Dan Mellor at Total Tools with the offer of some equipment.
"Dan has worked with manufacturer STIGA to set up the loan and we are delighted that together they have come to our rescue.
"At Nantwich Town, we greatly appreciate the support of all the local businesses we deal with and this is yet another magnificent example of the support we get across the town.
"We have also launched our appeal 'Secure your Club' appeal to raise funds towards permanent replacement, but this is a tremendous gesture to see us through in the short term and very much appreciated by the club."
The recent break-in was the second suffered by the club in two years.
The club is also plagued with trespassing on the 3G pitch and vandals have left broken beer bottles, empty Prosecco bottles and worse strewn across the pitch.
A club spokesman said: "The frequency of such invasions has increased rapidly in recent weeks and we now have no option but to take action to prevent such behaviour destroying a fantastic community asset in Nantwich and endangering the safety and wellbeing of our young footballers.
"The club is therefore developing an improved security plan which will require significant investment aimed at keeping unwanted trespassers off the 3G and installing improved CCTV to deter burglars.
"To fund this investment, we have applied for grant funding where possible but need the community of Nantwich to help out raising funds to meet the gap in funding.
"We are therefore announcing a £10k fundraising campaign to help bridge the funding gap.
"Without such a campaign, the whole future of the facility could be at risk.
"We are therefore asking local businesses, charities, societies, supporters & individuals to help towards the 'Secure your Club' fund."
If you wish to help the club with it's appeal then any donations can be given at the club shop or by visiting the club's Just Giving page https://www.justgiving.com/crowdfunding/nantwichtown-fc