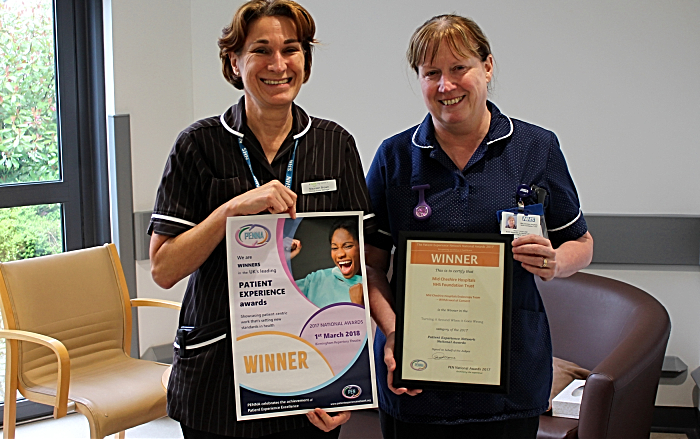 Staff at Leighton Hospital have been recognised at a national awards ceremony aimed to share and celebrate excellent patient experience.
The Patient Experience Network (PEN) National Awards are the first patient experience awards in the UK.
They celebrate the delivery of outstanding patient experience by health and social care organisations.
And Mid Cheshire Hospitals NHS Foundation Trust (MCHFT), which manages Leighton Hospital as well as Northwich's Victoria Infirmary and Elmhurst Intermediate Care Centre in Winsford, won two awards at the Birmingham event.
The first award went to the trust's "To Take Out Medications" project, which won the "Measuring, Reporting and Acting" category.
The project saw the introduction of a pharmacy printer on the Acute Medical Unit, which allowed staff to label stock medications rather than going to the hospital's main pharmacy.
It has resulted in reduced discharge delays for patients, increasing patient satisfaction.
Mid Cheshire Hospitals was also awarded the "Turning it around when it goes wrong" award for its Endoscopy team which has educated staff and patients about how to withdraw consent during an endoscopy procedure.
Maureen Brown, clinical nurse manager for Endoscopy, led on the withdrawal of consent initiative.
She said: "It is a compelling example of how we have made suitable changes in direct response to concerns previously raised by patients.
"The success of this project has been down to the leadership within the team and their desire to make sustainable improvements in response to feedback from service users.
"I am delighted that the team has been recognised for their work and I am extremely proud of the difference they have made to delivering patient experience."
The Trust was also recognised for its partnership working to improve patient experience.
The "In This Moment" dance and dementia project was a finalist for the "Partnership Working to Improve the Experience" category.
MCHFT worked alongside Cheshire Dance, who visited the hospital to perform dance and movement routines with patients on the rehabilitation ward or those with dementia.
Music and movement help stimulate memories or moments of awareness and has led to improvements in patients' physical and mental health.
Tracy Bullock, chief executive of Mid Cheshire Hospitals, said: "I am delighted a number of our teams have received much-deserved recognition for their continued work to improve patient experience at Mid Cheshire Hospitals.
"The recognition is an accurate reflection of all the hard work that our staff produce to ensure patient satisfaction is as best as it can be.
"Congratulations to all those who won and those who were nominated for awards."